A 'Destiny' Player Beat Crota Solo with a Rock Band Drum Kit
With a little bit of practice and time, one man beat a raid boss using wooden spoons.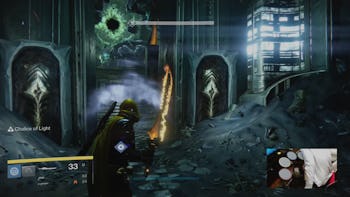 Sean Gallagher
Destiny players have done some crazy things — such as soloing bosses and spending hours glitching into secret areas — but the latest community achievement comes from a dedicated fan with a knack for handling drum kits.
Earlier this week, Sean Gallagher took on Crota with a Rock Band drum kit and a pair of (what looks like) wooden spoons. And he won in 7 minutes time.
Raids in Destiny certainly aren't easy, and when you are running through them with your team of six players the last thing on your mind is how to solo them with a drum kit. Granted, Gallagher did have some help from the exotic sword Raze-Lighter, but it's impressive nonetheless.
Good work Sean, we're looking forward to seeing what you and your drum kit accomplish in the future.