Untethered Military Surveillance Blimp Floats 130 or So Miles Before Landing in Bloomsburg, Pennsylvania
The blimp was spotted above a school.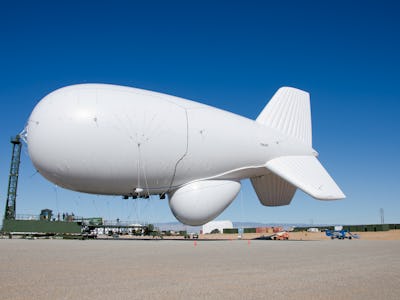 U.S. Air Force
Update, 3:38 p.m.: THE BLIMP HAS LANDED.
NBC affiliate WGAL is reporting the blimp has landed near Bloomsburg, Pennsylvania, and they have a photo of its descent as proof:
Here's another photo from Twitter user Nikki Krize:
Original story:
A military surveillance blimp came loose today from its base at Aberdeen Proving Ground in Maryland, and has been spotted some 130 miles away near Bloomsburg, Pennsylvania.
Twitter user Fisher P Creasy posted video of the blimp floating just a few hundred feet in the air:
The blimp apparently also knocked out power in the area:
According to a statement released from Aberdeen Proving Ground in Maryland, the tether on the blimp — named the Joint Land Attack Cruise Missile Defense Elevated Netted Sensor System, or JLENS for short — broke around 11:54 a.m., taking approximately 6,700 feet of tether with it.
"People are warned to keep a safe distance from the airship and tether as contact with them may present significant danger," reads the statement issued by APG officials.
From there it got lost for a while before coming down near Bloomsburg, Pennsylvania around 2:42 p.m.
As it flew off, authorities alerted anyone who saw the blimp on the ground to call 911.
The JLENS program was developed 17 years ago as an early warning defense system operating in pairs. One is supposed to search for threats while the other focuses on airborne objects and sends back "fire control" data on their speed and accuracy. Only four were built, and in recent years the $2.7 billion warning system has been criticized as a "zombie program," ineffective and unable to be killed, by some military officials. An extensive [L.A. Times] report details how the blimps have repeatedly failed to detect intruders in testing. The one being held in Maryland was half of a pair used for a three-year testing program.
Two fighter jets were monitoring the 243-foot-long, helium-filled blimp.
The Office of Pennsylvania Governor Tom Wolf released the following statement in the moments before the blimp was spotted in Bloomsburg:
"The Governor's Office is in communication with the Pennsylvania Emergency Management Agency, the Pennsylvania State Police, the National Guard, and the appropriate authorities with the federal government. We are closely monitoring the situation, and we will work with the appropriate authorities to respond to any resource requests and assist in any way possible."
As soon as the blimp got loose, this Twitter account sprang up, tweeting memorably: