Watch Bill Nye and Neil deGrasse Tyson Go 'Beyond the Horizon' With Auto-Tune
Even scientists get the Auto-Tune treatment.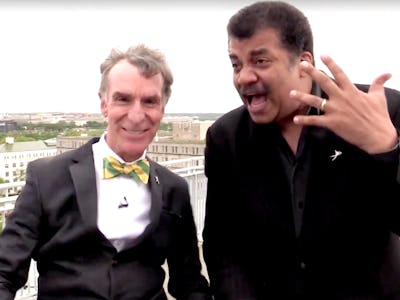 Nothing is sacred when it comes to the simultaneously glorious and atrocious powers of Auto-Tune: not even scientists. In John D. Boswell's brand-new video, Bill Nye, Neil deGrasse Tyson, Emily Lakdawalla, and Carl Sagan all go "Beyond the Horizon" and "set sail for the 21st Century."
Boswell — better known as MelodySheep and the creator of the web series Symphony of Science — edited various clips of Nye, Tyson, Lakdawalla, and Sagan to create the catchiest space exploration theme song this side of the Star Trek theme song (especially Will Ferrell's version). The video was created in collaboration with the Planetary Society to celebrate their 35th anniversary — because hey, nothing says "Have a super hip birthday" quite like songs, space, and scientists.
"We are at a time in history when we can change the world," says Nye at the beginning of MelodySheep's remix. "What do we want to pass on to future generations?"
Auto-Tune, that's what. (Oh, and space exploration.)
Watch for Nye and Tyson breaking it down on a rooftop around the two-minute mark, followed up by some choice vintage footage of Carl Sagan on The Tonight Show Starring Johnny Carson with the talk show host looking absolutely enraptured by the idea of solar sailing.
Without further ado, here's the song that'll be stuck in your head for the rest of the day… and beyond the horizon. (We're sorry. You're welcome.)