Epic Hurricane Patricia Gets Downgraded to a Tropical Storm
Hurricane Patricia buckled as it made landfall.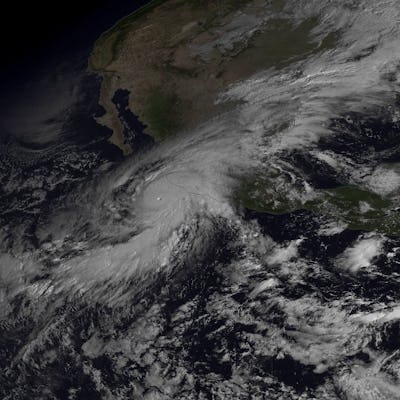 NASA/NOAA via NOAA Environmental Visualization Laboratory via Flickr
"Good" news for everyone in Hurricane Tropical Storm Patricia's path. What was going to be a hurricane of absolutely epic proportions has been downgraded to a tropical storm.
Tropical storms are nothing to sneeze at, but considering this is what Patricia (right) looked like compared to Hurricane Katrina (left), it's a pretty big deal that this storm calmed down… at least a little bit.
When it made landfall, Tropical Storm Patricia hit a rough patch and dissipated a bit thanks to the mountain ranges along Mexico's Pacific coastline.
"It's amazing it went from the worst in history to just some heavy rain," an American tourist told the AP after her family's flight out of Mexico was canceled due to the storm path.
While the threat of 200mph winds have been reduced to 50mph gusts, Tropical Storm Patricia still remains a very real threat to the people along the coast. According to NBCNews, flooding and landslides will still be a huge hazard for the area.
"We cannot yet let our guard down," urged Mexico's President, Enrique Peña Nieto in a taped address.
Considering the how much the storm has transformed over the past several days, practicing vigilance and extreme caution seem to be the right course of action until Patricia has passed. We'll keep you posted on any new developments with Tropical Storm Patricia.