Here's a Creative Solution for Revitalizing Abandoned Urban Spaces
In San Francisco, Proxy found a way to turn impermanence into success.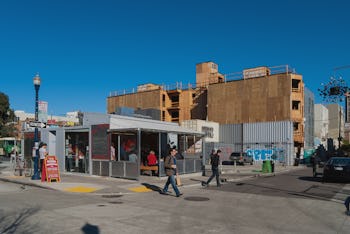 Flickr user SPUR
From a bird's eye view, urban spaces look like a marvel of human ingenuity and hard work. Down on the ground level, however, that perception is sure to change. All cities, no matter how well they are doing in terms of numbers and statistics, have cracks that allude to bigger problems.
For example, take the issue of abandoned spaces within city blocks. Each vacant lot is a sign of a business that went under — a sign of loss. Unless another developer swoops in quickly to take over, an empty space — even in a vibrant and successful community — elicits a worried feeling. If the economy takes a hit and other spaces nearby go vacant, the whole neighborhood soon has less money coming in while more and more buildings and spaces are abandoned. Very quickly, a busy block starts to look like it's downtrodden and struggling.
Douglas Burnham and others at the design firm envelopeA+D saw this happening in San Francisco, over several blocks in the Hayes Valley neighborhood. The 1988 earthquake had torn up a portion of land and left 22 lots vacant in its wake, never to be reclaimed in the aftermath. Over the next decade, there was little attempt to revitalize the area and redevelop it. Development plans finally approved by the city were put on hold after the recession hit in 2008.
As Burnham explained at the MAS Summit on Friday, he and his colleagues suddenly had an idea on how they might be able to fill the void. They were inspired by the influential avant-garde architectural group Archigram, which in 1969 launched the "Instant City" — a mobile technology event that essentially provided temporary infrastructure for hosting cultural events and performances. After the event was over, the whole thing would be torn down and moved over to the next town, where they would start the party all over again.
That's how Proxy was born. An example of what might be called "flexible urbanism," Proxy is a temporary two-block venue made of portable pods and renovated shipping containers. It offers a space for food vendors and a biergarten, an exhibition space for artwork and performance-based events, an area for temporary storefronts, and much more. Because the structural materials are so cheap and easily replaceable, the space can be fitted for a huge variety of purposes. All someone needs is a little bit of imagination and a plan to fulfill those dreams.
To some degree, one might be able to attach a kitschy "pop-up" label to Proxy, but Burnham argues that it's more than that. Proxy takes the aesthetics of impermanence and attempts to use them as an economic and cultural force for the neighborhood.
Just last week, Proxy began a film festival that will showcase various indie films that have generated buzz from SXSW and Sundance. An event like this that lasts several weeks is not easy to pull off, but they tend to pull in a great crowd that tends to spend money in nearby bars and restaurants after the showing is over.
Proxy is constantly changing — and that means it is constantly pulling from different elements of the surrounding neighborhood. Without retaining a singular identity, Proxy facilities change seasonally and invite people to return, just to see what else is new.
Using shipping containers as construction materials isn't a new idea. But Proxy may be one of the only projects that uses these materials strictly as a form of temporary design. Abandoned spaces negatively affect every city, but they are particularly harmful in some places like Detroit, where efforts to revitalize or repurpose vacant lots haven't picked up much traction.
Ultimately, Burnham and his colleagues may have found a potential solution that other cities outside the Bay Area might do well to emulate. As Burnham argues, Proxy is an example of how underutilized spaces can go a long way in helping a neighborhood grow and attract people from all walks of life to participate in the community.