Frightgeist Predicts the Most Popular Halloween Costumes Around the U.S. 
Do you want to be one of the crowd this Halloween?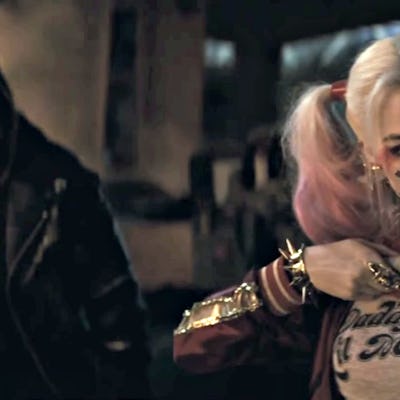 Screenshot via YouTube 
Daddy's Little Monster is going to be the belle of the ball this year at Halloween.
According to Google's Frightgeist (eh, eh, get it?) Halloween costume tracker, users can see what the most popular costumes are nationally and in their area.
As of right now, Harley Quinn has bashed her way into the top national slot, and as Google puts it: "You have a frighteningly high chance of seeing another Harley Quinn costume at a party this year. Boo!" Boo, indeed.
Google also provides a graph of the search history for each costume over the past decade, and the popularity of Gotham's hammer-toting sweetheart has risen drastically since 2006. Thanks to the Suicide Squad's ultra-stylized version of Dr. Harleen Quinzel's alter ego, Quinn is the 2015 Queen of the costumes.
Speaking of Gotham, it's perhaps unsurprising that New York will be bursting at its spandex-covered seams with superheroes and villains galore with generic "superhero" taking the top spot alongside Harley Quinn, Batman, Wonder Woman, and some superheroes from a galaxy far, far away.
The other notable hit on the Halloween costume roster this year is… Star Wars. (Big surprise, huh?) With the release of the latest poster and trailer (as well as the long-awaited premiere later this year), you're sure to see a lot of Jedis, stormtroopers, Wookiees, droids, and maybe even a few Ewoks.
What about the rest of the U.S.? Frightgeist's stats are ever-changing, but here's the latest look at the top 15 costume searches across the country:
And if you want to see what costumes will hit the streets in your area, just check out the "Trending Locally" feature and hover your cursor over your state and metro area to get the deets on this year's most-searched for getups in your neck of the woods… and beyond. (Why are "Cavewoman" diguises the top trend in Gulfport, Mississippi? And why is Altoona, Pennsylvania super into "Giraffe" costumes?)
You'll probably see way fewer Star Wars costumes next year after the hype has died down significantly (and by then Harley Quinn will be "so over"), but you'll probably see just as many witches and vampires as you would any year (classic costumes trump all!). Now, costume stats aren't necessarily that interesting from one year to the next. However, being able to look the life of a particular costume over the course of a few years is pretty cool because it charts the pop culture zeitgeist pretty well.
Take the rise and fall of Lady Gaga costume searches for example.
There's a sharp rise in the pop star's impersonators after her 2008 debut with The Fame, back when she was all poker faces and meat dresses. Over time, going gaga for Gaga became less popular — this may be in part to her ever-changing style, but may also be a sign of Gaga over-saturation in the media. Even with a starring role on American Horror Story: Hotel (which has insane costumes) and a new album in the works this year, Gaga's not going to see a ton of trick-or-treaters dressed as her. Ah, Halloween, such a fickle, been-there-done-that holiday.
If you like your Halloween-dividuality, you'll probably want to skip the pigtails and baseball bat or the robe and light saber. Maybe look to science for some costume inspiration, but remember to check Frightgeist, too.