The Throwback Genius of a Photo-to-Print App Called Recently
Recently is dragging digital photo albums into the delivery-on-demand age.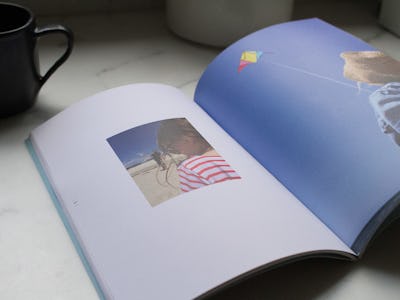 Recently
Maybe the only magazine you want to get delivered as a hard copy anymore is the one you shoot yourself. Scott Valins and his wife, Elizabeth, are banking on it with Recently, a new app for iOS that allows subscribers to collate the best snaps from their camera roll and get a 8 x 11-inch magazine of the photos delivered to their home. It's a throwback idea for the digital world. It's like Life, if it were your actual life.
The Brooklyn-based founders, who work in design, came up with the idea for Recently about three years ago. They launched a similar mobile-to-print app that customers could use to create baby books, but the idea never took off. "Through that process, I realized all the things that we were doing wrong about a tech product," Scott Valins tells me by phone. "It was the realization that there really wasn't equipment for what we wanted to do yet, and we started thinking about the right type of product and the ideal manifestation of these digital photos in what we would be interested in." The key change in those three years to Valins was to make the app experience as pliable and passive as possible.
"We wanted to make it something that was a really hands-off effort for the user," he says. This way, you needn't fret over editing or curating photos for the magazine — a surprisingly stressful process even when it's not the everlasting pressure of baby photos. "We're trying to get the simplicity of a structure going so that it's not an over-complicated thing," he says. "We want them to worry less and enjoy getting it rather than have to always be worrying about it."
Users of Recently, which costs about $9 per month, can select up to 100 photos from their camera roll to include in their monthly issue. The magazine itself is bound with 100-pound acid-free Mohawk uncoated paper stock, which Valins stresses makes it a more permanent object rather than a kitschy throwaway.
Valins is acutely aware that photo-to-print apps aren't anything new. And besides bringing a heightened artistic tangibility to digital photos, Recently can do it at a low cost. Similar soft cover books from Apple cost $20, while Shutterfly's seemingly endless and convoluted options also rack up the price anywhere from $13 to just under $50. And the process of getting your magazine through Recently is mercifully streamlined.
If you have more than 100 photos in your camera roll, the app will review the overflowing group of digital photos and try to choose the best ones. Users can submit which photos they want to go to print at any time during the month. Recently batch-presses all the photos, binds them, and ships the magazines out to users on the first week of the following month.
You can also mix and move the order of the photos, and remove any ones you don't want, but you can't edit the photos in the app itself. That lack of functionality is the price of positive passivity. Users can turn their thousands of digital pics into what Valins sees that some of them legitimately are: art.
"We're less interested in saying we're going to give you a thousand options to make a book and put, you know, 22 filters on this photo," Valins said. "We're more interested in saying you've created this great artwork on a tool. And we're not trying to take over what people are doing well, we're saying you're making great photographs on your phone and here's a really quick way to get them in something that's a gorgeous, tangible product."
Though the app has only been live for about seven weeks, and currently has about 1,000 subscribers, Valins sees the idea as pleasantly open to interpretation. "The concept is very malleable as a product," he said. Users run the gamut between families, photography buffs, the young, the old. He says businesses have also started to use the app for marketing purposes, taking pictures of day-to-day operations to portray the office culture. "I think people are becoming really creative with how they exploit it," he says.
The question lingers: We've entered a century in which paper is akin to clutter, when digital photos are easy to store or publish online — so why would we put resources into physical objects? To Valins, it boils down to a few things, starting from his and his wife's creative backgrounds.
"We have this affinity for a product that's kind of going away," he explains, "which is the gorgeous, thick-stock uncoated art magazines that came out twice a year and were being sold for $25 at a bodega." So professionally, he says, "When you're a designer you look at examples all the time. You're always looking at publications, you're looking at architecture, you're looking at all these different things, and people can curate their inspiration. There's no better thing than to have examples to look at." In a sense, Recently is counting on the limits of physical space to give the magazines their value. They let you see a bounded (literally) span of time — your inspirations, your travels, your memories — in successive volumes that stay out of the ocean of digital effluvia tucked away on hard drives and clouds and social media accounts.
The tangibility of Recently can help in that regard, but it also, ironically enough, points toward a more immaterial emotion. This is retro done in the real. It's the same sort of tendency that makes people buy vinyl records or stock their shelves with dozens of books against the idea of endlessly downloading digital files. It's more intimate, and, in a way, more present. "There's something very human about seeing photos in print, and the tendency of everyone taking so many pictures is that we want to capture something," Valins says.
The idea of having a tangible magazine to flip through, especially with nothing but your personal photos in it, may seem outdated, or even twee. Waiting for a monthly collection may seem antithetical to the ability to tap on your phone's screen and instantaneously sift through the photos that we've taken. That's all right for some, but Recently tempters our digital habits. You know how people have to view non-digital photos? They come over, they sit down beside you and you flip a page, together.