Joanna Newsom's 'Divers' is Her Most Accessible Release in a Decade
The singer, pianist, and harpist turns in a varied and imaginative record on par with 2006's Ys.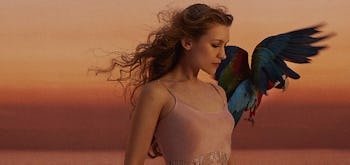 Drag City website
Following the release of her five-part orchestral song cycle Ys. in 2006, singer/songwriter Joanna Newsom went from being seen as a divisive "freak folk" act off the coast of Devendra Banhart to an auteur eluding any categorization. Each new Newsom record had a distinct multivalent vision, and managed, at the same time, to pack in earworms that widened the appeal of her music beyond where it might have seemed possible on first listen.
It began to seem like Joanna Newsom album were built to be formidable edifices before which her audience would tremble in awe. Both Ys. and 2010's two-hour-plus, triple album Have One on Me are regarded as two of the most brilliant indie records of the past fifteen years, partially by virtue of being so overwhelming. There's a certain allure that comes when it feels like there will always be more to work out with a piece of music. Records like Ys. can feel like they make less sense the more you listen, and they swallow you up.
But Newsom's first album in five years permits more easy interpretations. For all its vertiginous song structures and wordplay, it feels less like an eighth wonder of the world, and more like just an album. Though Divers has little in the way of hummable refrains or hooks, Newsom makes the listener a comfortable bed, locking them in for fifty minutes with her capricious orchestrations and conversational lyrics. She sketches a hydra-headed narrative in the vein of William Faulkner circa The Sound and the Fury and As I Lay Dying, though the chapters cumulatively point in a much less clear, most collage-like direction. Newsom plays multiple characters — she's elegiac and broken-down as on the title track ("Divers"), parodically masculine ("Waltz of the 101st Lightborne") and a extroverted raconteur on the Appalachian-folk-tinged ballad "The Things I Say."
Amidst all the contrasts, Newsom maintains an interest in keeping the album conceptually and musically cohesive. As she recently told the New York Times, she considered the song order when finalizing composition, working with key areas and repeating chord progressions across the album to give it a unique momentum and unity, The effect is just subtle enough to work: The recurring motifs are not invasive at all, and therefore Newsom never risks rock-opera gambits that would come off facile or pretentious.
Divers is structured by narrative rather than songform on its own terms. Newsom will sometimes circle dizzyingly around just three or four chords for minutes at a time to fit in her extensive libretto, but perhaps ironically — by letting her stories lead the way — Newsom manages to deliver her most transparent and accessible album since her 2004 breakthrough The Milk-Eyed Mender. Divers leaves the clues of its inspiration to be found in the music, rather than just a little bit outside of it as on Ys or Have One on Me. Even if one doesn't immediately grasp the lyrical conceits on Divers, Newsom's knotty, sometimes demented ("Goose Eggs") counterpoint — mixed with her resourceful and varied arrangements from fellow contemporaries like classical composer Nico Muhly, Dirty Projectors' Dave Longstreth, and the avant-guitarist Ryan Francesconi — create the rough outline of each song's scenario, and highlight its emotional trajectory.
Additionally, Divers is a challenge to Newsom skeptics for whom each album increasingly registers as Just More of the Same Newsom-ness. These songs are constantly at odds with themselves: They push and pull between disarming, even smooth ("Divers") pop crooning and abrasive pealing reminiscent of her early work, or full rock arrangements ("Leaving the City" and Longstreth-arranged closer "Time, As a Symptom") and woodwind-driven chamber music ("Anecdotes"). There are jarring tin-can vocal effects, phrases played in reverse, birdcall samples, and synthesizers — it's a sonic funhouse that no Newsom record has ever been.
Divers fires on all cylinders: It creates a transcendent and visceral impression as a whole that makes it a stronger-willed and more consistent record than the uneven Have One on Me, and ranks as one of the best records by a veteran singer/songwriter this year.