Amanda Petrusich Preaches the Gospel of Guns N' Roses: MEDIA DIET
She has some rare 78rpm records, on the one hand. On the other, she just saw "The Intern."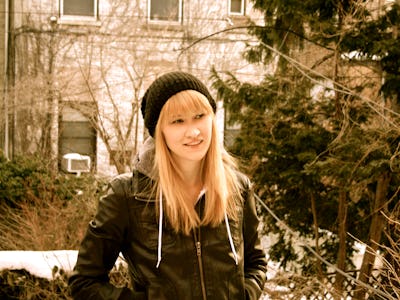 Amanda Petrusich
Why attempt to sum up someone's career when she has such a nicely written bio on her website?
Amanda Petrusich is the author of Do Not Sell At Any Price: The Wild, Obsessive Hunt for the World's Rarest 78rpm Records (Scribner; 2014), It Still Moves: Lost Songs, Lost Highways, and the Search for the Next American Music (Faber and Faber; 2008), and Pink Moon, an installment in Continuum/Bloomsbury's acclaimed 33 1/3 series. She is a contributing writer for Pitchfork and a contributing editor at The Oxford American, and her music and culture writing has appeared in The New York Times, The Atlantic, Spin, BuzzFeed, and elsewhere. She has an M.F.A. in nonfiction writing from Columbia University and presently teaches writing and criticism at NYU's Gallatin School. She lives in Brooklyn.
I caught up with Petrusich this week and, quickly, the topic turned to print. "I like the thing in my hands," she tells me, eschewing the usage of an iPad or Kindle. She gets The New York Times delivered every day, and still subscribes to ye olde paper editions of The New Yorker, The Oxford American and Virginia Quarterly Review.
She took her position at NYU last year. "It's the first time in my life that I've had a real job and, certainly, the first time I've had an office," Petrusich says. "Now, I have this space in the city with all these bookshelves. That has been tremendous because I've been able to excise pounds and pounds of reading material from my apartment into that space. It's such a nerdy thing to do but I can sit there and behold all the books on the shelf, get some satisfaction to see them all lined up."
Petrusich lives a block-and-a-half from BookCourt in Brooklyn, "a haven for people who love to read." She also lives around the corner from Community Bookstore, which is closing soon. "That place is in incredible. It's sort of a hoarder's Atlantis," she says. "It's got these really weird hours: He will open up at 3 or 4 in the afternoon then will be open till 2 or 3 in the morning. So, you can be stumbling home from some fun night out and be like, 'I know! I need Dostoevsky.' You wake up the next morning and there's a half-eaten piece of pizza and a stack of Tennyson."
She did just that and recently finished Crime and Punishment. "It seems like a dumb thing to say, but that book is hysterically good," Petrusich reports. "A couple times I year I get this urge like, 'Ahhh, it's time for a big fucking book.' I was in this monogamous relationship with Crime and Punishment for many, many weeks."
Petrusich has been reading a lot of student work at her main gig, which she digs. "I guess I'll shout out to my students, if I get to shout out to anyone," she says proudly. "The assignment I just gave them was to write a personal essay about a transformative experience fueled by or organized around pop music. And the responses to that have been so smart and funny and weird and heartbreaking and beautiful."
Petrusich doesn't watch a lot of television, but after only one episode, she's hooked on a show. "I think like every other critic I know, I'm really interested to watch Review, that show on Comedy Central." She's also into The Leftovers, on HBO. "It's an under-watched, under-discussed series," she says. "It's a very perceptive, very human show that's found a way to dramatize what is actually an ordinary moment — which is rendered in an extraordinary way. It's that moment in which everyone collectively experiences the sense of discovering that nothing is what you thought it was."
I ask Petrusich about her relationship with the big screen and get a totally awesome anecdote in return. "I really love going to the movies," she says. "Last week I finished an edit of this monster essay and after I sent it back to my editor, I put on my jacket and started wandering the streets of Brooklyn — glassy-eyed and desperate-looking, I'm sure. Like, wearing a sweatshirt with actual dribble on the front of it. I bought myself a drink, and that felt good. Then, I was like: Fuck it, I'm going to the movies."
It ain't over yet. "But, I'd left my phone at home, so I walked over to the Cobble Hill theater, and was like: One ticket to anything that's starting now, please. Which felt good also, but it turned out to be The Intern." Bummer, right? Well, not necessarily. "The kind of great thing about an experience like that is that I continue to have no qualitative response to it, whatsoever. It just happened. I just sat there for two hours, ate some Swedish Fish, the movie happened and it felt great. Just an off-switch for the brain. I feel like going to the movies functions that way for me: It's just a break sometimes."
Since Petrusich wrote the book, literally, on obscure 78rpms, I ask her about vinyl. "I have a suitcase turntable I moved into my office at NYU, which all of my students make fun of. I had to put limits on music for my own sanity," Petrusich tells me, alluding the likes of the endless options at Spotify and iTunes. "I just started realizing that the more choices I was facing in my life, the more unhappy I was. This idea that I have a finite collection of music — a couple thousand LPs," she says laughing a bit, knowing it's a big collection. "I like that it forces me to focus on something." Lately, she's been focusing on Bruce Springsteen's The River, as she's writing about its December reissue for The New Yorker.
She does, however, recognize the utility of the internet's instant gratification. "About a week ago, the only thing I wanted to listen to was 'November Rain' by Guns N' Roses. Like all nine glorious minutes of 'November Rain.' I bought the mp3 and was extremely grateful that I could wake up and hear it all day long. It's such a strangely tender song. God, I love it." Don't we all, Amanda? Don't we all. Let's do this: