The Future of Denver: Goodbye Cars, Hello Trains
The 'Mile-High City' could soon be a shining example of public transportation in the Mountain West.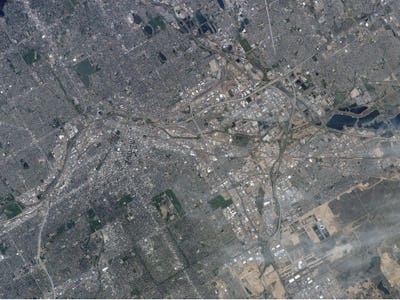 NASA
Historically, trains, buses, commuter rails, and shuttles have been less common than Broncos in Denver. "It's been a pretty auto-dependent city," says Wesley Marshall, an associate professor of civil engineering at the University of Colorado at Denver. But Marshall is quick to point out that everything — yes, everything — is about to change. Denver, which has been busily investing in infrastructure products for the last two decades, is finally turning into a public transportation hub.
The prime example of the city's shift away from cars is FasTracks, the Regional Transportation District commuter rail program. The initiative is a decade and $4.7 billion along in its quest to create 121 miles of commuter and light-rail tracks, 18 miles of bus lanes, and 57 new rapid transit stations that accommodate 21,000 parking spots. Those are big numbers and they are also — more impressively — realistic numbers.
FasTracks just opened the new commuter rail that goes west and connects to Golden, Colorado. Plans are underway to open an eastbound line that will go from the Denver International Airport straight into the city's downtown neighborhoods. Plans are now in motion to add a bus-rapid transit system to nearby Boulder by the end of 2014.
Together, these new developments help connect the smaller cities around Denver to the urban core, granting city access to commuters who previously clogged local highways or simply gave up and built small satellite cities.
"They're not just trying to create single lines here and there," says Marshall. "They're really trying to create a full network.
Why has public transportation become such a big deal in Denver? Why are people clamoring for more buses on the roads and more trains on the rails?
Marshall thinks transportation is a hurdle all great cities constantly face. "Once you reach a certain population and a certain density, cars just don't work. There's physically not enough space downtown to bring that many people together." Indeed, Denver came in at 6 on Forbes' 2014 ranking of the fastest growing cities, and the Denver metropolitan area expects to accommodate more than a million more residents by the year 2040.
Trying to fit that many people in the center center would effectively strangle all the businesses that call it home. "You're not going to be able to provide enough parking or make the roads wide enough for all of those cars." says Marshall. "It just won't work." He points to the old joke that says trying to cure congestion by adding lanes is like trying to cure obesity by loosening your belt.
"You have to give people options, like transit lines or bike trails," says Marshall. "The better cities understand that, and that's why they can keep growing."
Systems like this don't just spring up overnight. Building a public transportation network requires a lot of collaboration from different community governments from around the region working together. And of course, the tickets and taxes that defray construction expenses can fire up local opposition to beneficial projects. Still, there's hardly a revolt on the streets of Denver. Maybe it's the weed, but people have been remarkably chill about the development — and eager to embrace them. Daily light-rail users rose 15 percent between 2012 and 2013.
The transformation of Denver transportation hasn't just hinged on public works. Marshall cites the rise of ride-sharing services like Uber and Lyft as having potentially helped decrease the number of cars on the road — perhaps even at the expense of bus and rail ridership numbers.
One of the more unusual new modes of transportation in Denver is the network of electric rickshaws, a vehicle class more closely associated with Asia than the American West. Denver-based company eTuk USA has recently started offering city dwellers the opportunity to get around town on cost-efficient, eco-friendly, three-wheeled "tuk-tuks." Residents can use the not-so-speedy carts as Zipcars without having to shell out and, critically, without taking up too much space.
Still, Marshall argues that rails will be the most important factor in Denver's transportation renaissance — and the reason is because rails are permanent. "People aren't going to be building new apartments and restaurants and businesses near a bus stop. But they'll do it for proximity to rail stop." That kind of economic development is what separates the more influential projects from the other things that have taken off recently.
"When you think about other cities like New York or London, their [public transit systems] probably won't look too different from now," says Marshall. "But a city like Denver will — because of what they're doing with public transit. There are a lot of big changes happening."