'You Could Feel the Ground Move': American Pilot Killed in F-18 Crash in England
The jet reportedly missed a refueling rendezvous not long before crashing in the English countryside.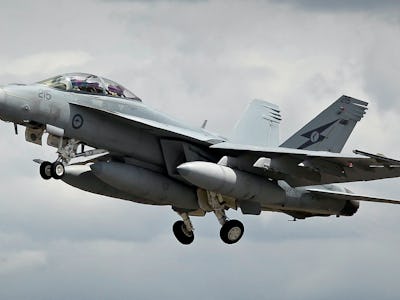 Getty
An American pilot was killed early Wednesday morning when a Marine Corps F/A-18C Hornet fighter jet crashed after taking off from the largest U.S. Air Force-operated base in England.
A spokeswoman from Cambridgeshire Police told NBC News the yet-unidentified pilot was killed and that no one else appears to have been on board.
The F-18 crashed at about 10:30 a.m. in England — 5:30 a.m. EST — in farmland approximately 70 miles northeast of London not long after leaving RAF Lakenheath in Suffolk.
Witness Karen Miles-Holdaway told BBC Radio Cambridgeshire the sound of the jet was different than what she was used to hearing living near a highly trafficked airspace.
"I was in my garden when the jet flew past and I thought 'Oh my god that's low'," she said. "It was pretty horrendous the noise you heard.
The jet was reportedly one of six returning from combat operations in the Middle East.
U.S. ambassador to the UK Matthew Barzun tweeted condolences:
Authorities have yet to name a cause for the fatal wreck, though the plane reportedly missed an appointment with a fuel tanker before the crash.
F-18 crashes are, if not rare, infrequent:
One went down in April 2011 west of Naval Air Station Lemoore just nine seconds after starting a maneuver called the loaded roll. The move was taken out of the repertoire for demonstration flights and air shows not long after.
In April 2012, a Navy F-18 crashed into an apartment complex in Virginia Beach when both the right and left engine failed during a training exercise.
Just this month, on October 14, a Swiss jet crashed during training in France, and the cause has not yet been revealed.
"You could feel the ground move so what I think I heard was probably the impact," Miles-Holdaway said of today's crash.