Marines Continue to Investigate Cause of F-18 Crash as Pilot Is Identified
The pilot reportedly missed an appointment with a fuel tanker before the crash.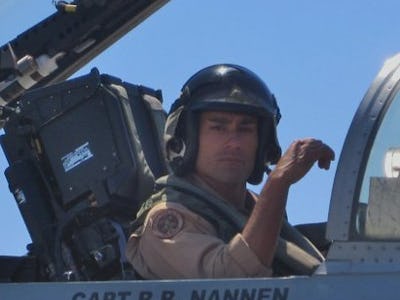 Facebook
The American pilot killed in an F-18 crash in England Wednesday has been identified as Major Taj Sareen of San Mateo County, California.
Sareen, a Marine Corps pilot for close to 11 years, graduated from the University of San Francisco in 2004. ABC News 7 photographer Chris Jewett attended school with him before Sareen joined the military, describing him as a charismatic student.
"He had this confidence and infectious smile. When he came in the room everyone wanted to talk to him whether he was wearing his dress blues or not," Jewett said. "It just seemed like something he was called to do, something meaningful."
Sareen was killed when his F/A-18C Hornet fighter jet crashed 70 miles northeast of London not long after leaving RAF Lakenheath in Suffolk.
He reportedly missed an appointment with a fuel tanker before the crash. He was able to eject, but did not survive.
Witness Karen Miles-Holdaway told BBC Radio Cambridgeshire the sound of the jet was different than what she was used to hearing living near a highly trafficked airspace.
"You could feel the ground move so what I think I heard was probably the impact," Miles-Holdaway said.
Sareen's Facebook page is filled with images of the jets he was piloting as well as a patch for "Strike Fighter Squadron 94." His LinkedIn page says he was stationed at Marine Corps air Station Miramar in San Diego County. His jet was one of six returning to the United States from action in the Persian Gulf at the time of the crash.
Sareen reportedly avoided crashing in a residential area to prevent civilian casualties.
"I knew that was Taj. That's Taj in a heartbeat. I mean, he would do that to save people," friend Preston Phillips told ABC 7 News.