Amazon Goes After Professional Product Reviewers Who Rig the System
Here's why Amazon is going after professional product reviewers.
by Sam Blum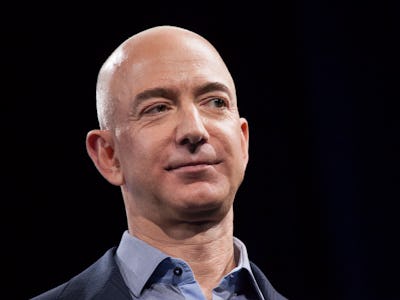 Getty Images 
Amazon's customer reviews can be quite helpful: They allow one to vet a product before it's even been delivered — which is the ultimate exercise in smart consumerism - but lately, product reviews have proven more sinister for the online retailer. On Friday, October 16, Amazon filed its second lawsuit this year relating to fake reviews promoted on its website, and it has no idea who's behind the shady endeavor.
Filed in Seattle, Amazon's complaint cites 1,100 anonymous defendants, all appropriately named John Doe in the suit, who've allegedly offered sellers favorable product reviews for the paltry sum $3.24 each on the website Fiverr, a website that bills itself "the marketplace for creative & professional services."
"While small in number, these reviews can significantly undermine the trust that consumers and the vast majority of sellers and manufacturers place in Amazon, which in turn tarnishes Amazon's brand," the complaint reads.
These sorts of offers are available on Fiverr for any sellers looking to rig the system. After a quick search on Fiverr, we found a user offering "VERIFIED book review for your kindle ebook for $5." The offer's description goes on to ask if the seller wants an "honest" or "promotional" review of their book:
We all know that having positive book reviews on Amazon is one of the best strategies in increasing your sales. As a voracious reader myself, I always check verified reviews before purchasing anything online. For $5, I will write you a well-written review of any purchased book (100 words or less). Advise me if you want an HONEST or PROMOTIONAL review.
According to the suit, Amazon went rogue to find out just how the phony review system works by posing as different sellers on Fiverr, and purchasing glistening reviews from various people who promised five-star ratings.
In addition to mounting suits against different paid review websites last April, the ecommerce behemoth has been dodging verbal daggers since the New York Times published a weighty expose of the company last August.
Amazon says the fake reviewers thwarted any chance of surveillance by using different IP addresses, according to the complaint. Fiverr isn't complicit in the process, however, and is working in tandem with Amazon to solve the problem.
"Amazon is bringing this action to protect its customers from this misconduct, by stopping defendants and uprooting the ecosystem in which they participate," the lawsuit says.
Jeff Bezos, founder and CEO of Amazon, who is no stranger to the rigors of capitalism's peaks and valleys, is also firmly acquainted with litigation and controversy.