Christopher Lloyd Just Gave Us One More Reason to Root for the Cubs in the World Series
Hey, Cubs: "If you put your mind to it, you can accomplish anything."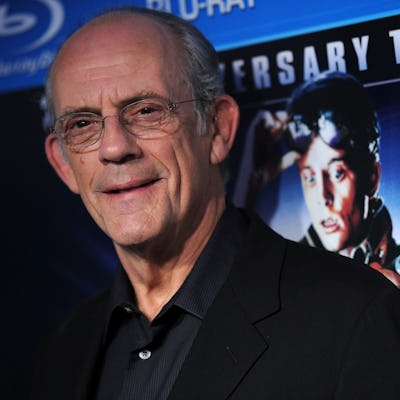 Bryan Bedder/Getty Images
Hey Cubbies, it looks like the stars are aligning in your favor… the Hollywood kind, at least.
One of the stars of Back to the Future, Christopher Lloyd, has officially put his World Series support behind the Cubs thanks to the what unfolded in Back to the Future: Part II. The 1989 Robert Zemeckis flick predicted that the Cubs would come out on top in the World Series on October 21, 2015 — which, incidentally, is now known as Back to the Future Day.
But Lloyd said he's willing to do more than just verbally back the Cubs' potential road to baseball glory. He wants to throw out the first pitch at a Cubs World Series game.
Best known as Doctor Emmett Brown in the time-traveling movie series, Lloyd told the Hollywood Reporter he'd be down to show off his pitching skills. "They got to get there first," he said.
This year's World Series dates don't quite match up with what happened in Back to the Future: Part II — the series will start on October 27 and could run until November 4 — but fans of the film are still stoked about the possibility of some seriously cosmic happenings. And hey, the Cubs and Mets are slated to play game four of the National League Championship Series on Wednesday, October 21, the day when you can expect Wrigley Field to be chockfull of fans dressed up like Doc Brown and Marty McFly for luck.
Will the Cubs make the big win a reality? They haven't won the World Series in over a century — the last time being in 1908. But tonight is their first game of the NLCS against the Mets. And great Scott, we know who we're rooting for.