'The Knick' and Clive Owen Return With a Vengeance and a Heroin Habit
Steven Soderbergh is not eager to please.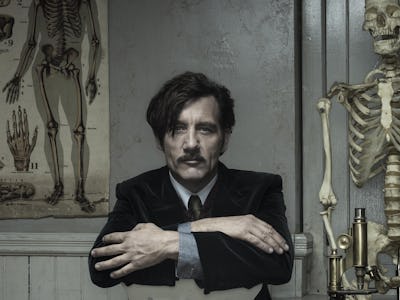 Cinemax
The second season premiere of The Knick was downright forbidding. The plot was hard for even fans of the first season to follow. The characters have refused to stay still and there is a real sense that time has passed and people have changed and that unknowns may stay unknown. This is exactly what director (and editor and cinematographer) Steven Soderbergh was going for — and it works. It's mentally taxing to keep up, but if feels good to be back.
Last season, the show built a world and then set it on fire. The hospital board voted to move the Knick to a new location uptown; Cornelia (Juliet Rylance) headed west after she was forced to marry a man she didn't love; Algernon (Andre Holland) coped with losing her by nesting at the bottom of a beer glass and punching people; Bertie (Michael Angarano) was heartbroken that Nurse Elkins (Eve Hewson) enjoyed the company of Dr. Thackery over him; Nurse Elkins was heartbroken that Dr. Thackery preferred the company of cocaine. This season is about picking up the pieces, but the pieces are really fucking heavy.
It all goes back to Thack. Poor, poor Thack. The end of last season saw the Knick's chief surgeon beaten down by his drug addiction and shipped off to rehab only to be introduced — in the final shot of the season no less — to a new wonder drug called heroin. We pick up with Thack, still in rehab, and seemingly worse than he was when he was convincing himself he was all right. A botched surgery and an ultimatum later, Thack is trying to get his job back.
Clive Owen's performance as the tortured Thack remains the anchor of the show. He plays him like an honorable yet fragmented genius even when he's high on skag and ranting. When Eric Johnson's disgraced Dr. Gallinger turns up to check on his old friend, it's that sense of untapped brilliance that compels him to shanghai Thack onto his boat, then sail straight for withdrawal.
The show is playing up the uneasy tension between Thack and Edwards, two undeniable talents that clash while working medical magic together. But for now, the two remain apart. If Owen is the anchor of the show, Holland is the heart. As a black man in 1901, his position as the new chief surgeon of the Knick was always unstable. Now as the Knick moves uptown, he'll face even more racism in the operating room and in the boardroom. In an understated but all around perfect scene that sees the board of the hospital discussing the future, Edwards must wait to be called in, as he says, "Like a child outside the principal's office." There he's informed that a new general practitioner is being brought on as a surgeon despite a lack of experience. The dude is white and connected. This is par for the courses Edwards isn't allowed to play.
Besides the more overt discrimination, his friend and Cornelia's brother, Henry, tut-tuts that everything will be all right, caps off many of their interactions by calling him "Algie." It's privileged condescension and it sucks. But it also feels inevitable.
All ten episodes of this season, like the first, were written by Jack Amiel and Michael Begler, who do a fine job of mixing earnest emotions with slightly antiquated language. It never becomes hokey. It'd be easy for writers to lose themselves in the period detail or the melodrama, but Amiel and Begler focus on making their characters into human beings rather than plot devices. Maybe that's why many people argue that nothing significant really happened in terms of a big dramatic arc last season. But for a steady and deliberate show like The Knick that sort of unwavering plotting grounds the show in a reality that other shows would forgo in favor of showing off their production budgets.
The show remains resonant and electric partly because of the writing, but also because of Soderbergh, an auteur without a schtick. Soderbergh has woven together his duties into a singular style that builds upon each of the parts he's working with. Besides the writing and the cast, he's got impeccable production design, and the low angles of his camera float through the rooms of the hospital and horse-and-buggy New York City in a way that brings the past forward. The music helps as well.
The Knick is a virus that you want to catch, and the first episode of the second season shows promise for what lies ahead. The setting is set, now it's up to Soderbergh and company to mix it up. It'll all most likely come to a head at the hospital. It just goes to show that in a place where you're meant to be fixed, these characters can't help but be broken.