Acclaimed Ride-Maker Proposes Virtual Reality Theme Park 'Virtual World's Fair' 
No lines, just load times.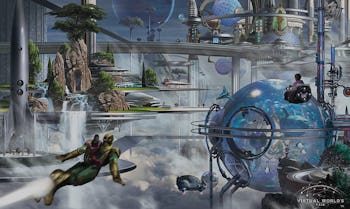 Landmark Entertainment Group
Landmark Entertainment Group, having successfully mashed terrifying robot dinosaurs and water flumes in its "Jurassic Park: The Ride" at Universal Studios, announced Thursday that it's working on smashing together theme parks and VR. Called the Virtual World's Fair, the first virtual park will (maybe) launch in 2017 with four parts:
"'Intencity' – will showcase some of the world's greatest advancements in technology, design and art through pavilions and exhibitions hosted by major brands, countries and organizations
'Dataland' – is a child's first virtual reality experience, an entertainment and education wonderland for children
'The Tower of Humanity' – is a celebration of the world we live in, and where the world's biggest and most important issues are experienced, empathized with, debated and acted upon by global citizens.
'Passportal' – is where the world is just a virtual step away; users can experience virtual travel to exotic destinations and international events such as national parks and monuments, capital cities, concerts, international festivals and holiday festivities"
In its announcement, Landmark cites the potential shortcoming of VR as "isolationist experiences," and believes having virtual meeting places like its World's Fair will blow those concerns out of the water. It's an appealing, if ambitious, idea — the atmosphere of happy, burbling park visitors without the aroma of humans broiling in queues.
You'll enter through a portal called the Pavilion of Me, a sort of VR social media profile which is, if the concept art is to be trusted, also the Pavilion of Friendly Velociraptors. The lack of a physical location is a departure from other proposed headset theme parks like the The Void, a gaming space opening in 2016 in Utah that wants to mesh VR with real-life effects such as billowing smoke.
Part of the Virtual World Fair's appeal is that it will be both distributed and centralized. If executed well, it'll be a good place to hang out with your buddies who live across the country.