Pornhub's Vice President on Virtual Reality: It's Coming
Vice President Corey Price tells us about the future of cyber erotica.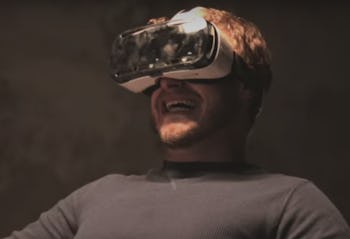 Pornhub
With the announcement this week by Pornhub that it would streamline the process to remove so-called "revenge porn," the most-visited adult site on the web follows in the footsteps of companies like Google and Reddit that have also put in similar measures.
With a popular "amateur" section stocked with user uploads, how would the site separate the life-ruining from the life-affirming videos? Could any measures really be effective when even a momentary exposure puts you in front of the site's massive audience? What's going on virtual reality erotica? What happened with the company's idea for sex in space?
Corey Price, vice president of the company, answered those questions and more in an interview with Inverse.
Who will review requests to remove revenge porn?
We have a well-trained team that takes care of each inbound request.
What guidelines will they use to determine if a request is legitimate?
To avoid an increase in false positives, we can't disclose the exact series of steps that we follow, but each individual in charge of policing this content has been sensitized in order to be able to determine the valid takedown requests from the invalid ones.
Has Pornhub received a lot of requests to remove videos in the past? Can you offer specific numbers?
We can't offer specific numbers but we have noticed a significant decline (-38 percent) in revenge porn over the course of the past two years. Now that posting revenge porn is being taken seriously as a criminal offense and that more and more companies and community leaders are taking hard stances against the practice, we can only hope that this downward trend will continue.
What's the site's traffic these days?
Pornhub receives over 60 million daily visits. While amateur content is indeed popular on our site, the vast majority of it consists of either real members of our community wanting to share their homemade content with others, or is professionally made material shot to look amateur.
Is PornHub going to adapt to the rise in virtual reality?
We definitely have plans to integrate VR into the site, with rollout likely beginning on our Premium platform. We'll be looking to support the Oculus Rift first and foremost (with others potentially on the horizon). The Oculus makes the most sense to develop for at the moment given its brand recognition, so that's why it's our initial choice. But it'll work the same way most videos and/or games work on VR — you feel as if you're really there in front of the actors. The device's gyroscope, magnetometer, accelerometers, and 360-degree field of view will all play into the porn experience ideally. And now, with several third party sex toy peripherals (i.e. the TwerkingButt), people can enhance their experience ten-fold.
Looking to the future, you put your Twerking Butt product on the market in August. How are the early sales?
The response to the Twerking Butt has been amazing. Sales are going very well.
The crowdfunding campaign to shoot the first adult film in space fell short of its goal. Has Pornhub given up on making a movie in orbit?
The crowdfunding campaign was intended to gauge interest, primarily. It seems like the world isn't ready for sex in space yet, but we very well may revisit this in the years to come. As technology continues to evolve, so too will our resourcefulness to continue to push the boundaries of sexual exploration.
Playboy magazine announced it would stop running nude photography recently. Does the collapse of the printed porn industry have any effect or consumer viewing habits?
The internet is growing at an exponential rate. It is now an extension of us as humans. Because of this, the porn industry has evolved and porn is more readily available than ever before. With that being said, the phasing out of nudes in Playboy does not go into until next March. Until that happens we will be unable to provide any statistical information on consumer viewing habits.
What's the future for Pornhub?
We have a few things up our sleeves. Stay tuned.
Interview questions and answers have been edited for clarity and brevity by 'Inverse'.