'Fantastic Four' May Revert to Marvel with a New Movie Coming in 2020
The comic empire struck a deal with Fox to swap 'Fantastic Four' with 'X-Men' TV shows.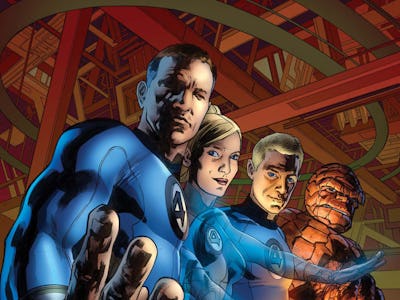 Marvel
Update
It looks like we all caught the speculation bug yesterday. ComicBook.com reached out to 20th Century Fox to ask them about the widely reported rumor that the rights to the Fantastic Four would revert back to Marvel in exchange for the right to the TV rights to X-Men. Turns out it was news to Fox, who shot down the rumor and reiterated their plans to move ahead with a sequel to this summer's much reviled Fantastic Four reboot.
While many — including us — were perhaps too quick to jump on the rumor mill bandwagon, the fervor behind the rumor says something about the franchise itself. It's languished on screen three times already without any of the three movies being any good, and people being excited about the possibility of it going to Marvel means people are still willing to give the four a chance. It's fantastic, but unfortunately it looks like the Fantastic Four will only live on at Marvel for the time being in the pages of its comics.
Everything is coming up Marvel. British pop culture website Den of Geek is reporting from an anonymous source that Marvel has made a deal with Fox to take back the rights to the Fantastic Four, and that a new movie will follow in 2020.
The deal involved Marvel giving up the TV rights of the X-Men to Fox, the studio that already owns the movie rights and has had enormous box office success with that franchise for the past decade. Other than the X-Men, Fox has whiffed on its superhero properties, and nowhere is that more obvious than this past summer's Fantastic Four debacle. It seems Fox thought it would cut its losses, do what Sony did with Spider-Man, and let the Marvel superheroes go home to their maker.
Fox will continue to wring as much as it can out of the X-Men on the small screen, while Marvel will inherit the troubled property. Though Den of Geek cites unnamed insiders, the rumors seem to be backed up by Marvel's recent announcement of three undisclosed movies slated for 2020. If this deal goes through it makes sense that Mr. Fantastic, the Thing, the Human Torch, and the Invisible Woman will be part of Phase Four of the Marvel Cinematic Universe in one of those slots.
Giving further credence to the rumors was Fox announcing this week that its Legion and Hellfire, two X-Men TV shows. Comic book fans should be glad to see Fantastic Four, having been botched elsewhere, will get the in-house Marvel treatment, whatever that turns out to be. Perhaps going back to where they began will give us a worthy installment of the adventures of one of Marvel's classic teams.