'Empire' Raises the Stakes 
'Empire' this week decided not to hold back.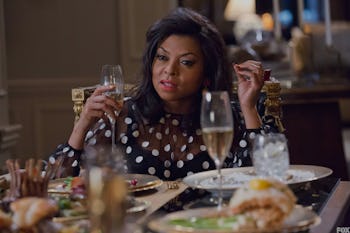 Fox
Empire is an increasingly ridiculous show to describe to friends. On a simple level, it is a soap opera — a soap opera where murder happens in a blink, flashbacks make no sense, affairs are to be expected, and business deals — this is a show about the music business — can be brought up and made within twelve minutes of on-screen time. It's a soap, albeit one with little sense of where the rails are. Even for a show that keeps the knob turned to 11, this week's episode went to 47.
Empire, to its credit, has not depended on quick pan reveals or dramatic commercial cuts to convey a moment. This week threw that out the window. The closing shot of the episode involved the overbearing district attorney getting ready to leave her home only to see a dead body in the passenger seat of her car. Despite the number of murders so far in the series, this might've been the bleakest moment in the entire show's run, showcasing just how desperate and depraved these characters have become for the power they want out of their "family" company.
What leads to the body in the car is Andre's desire to be welcomed back into Empire Records. A call from God pushes him to the point of being ready to risk jail to exhume the body of the man his wife killed and to present it in order to show that there is no case against Lucious or any of the Lyon family. The madness of this idea is quickly revealed when their first efforts to dig up the body end up fruitless and it takes his father and his wily lawyer to help them to discover the body. Lucious accepts Andre back into Empire, but even if God was calling Andre to this, it's hard to not imagine that a large part of his soul was lost in this in exercise.
When talking about Empire, it's always important to remember that this is a show that put an infant in a trash can in its first episode. Infant in a dumpster. Child in a trash receptacle. That is what made "Poor Yorick" feel like such a dramatic episode.
The opening scene starts with Jamal singing as the government is raiding the Empire Records offices, Gabourey Sidibe gets chased out a room by an armed FBI agent, Hakeem stabs a painting of Jamal, Hakeem and Jamal fight on set of their "black power" music video, Cookie breaks down in jail, the fucking Lucious and Kelly Rowland flashbacks, and I'm still confused how Empire can own over 50% of urban radio — how is that legal?! There are many directions the show could potentially go, but it's amazing that this second season appears to not be interested in pumping the breaks. Instead it is slamming the nitrous whenever it sees an open lane.