Miranda July Interviews Rihanna
Recapping some of the crucial moments from this intimate profile.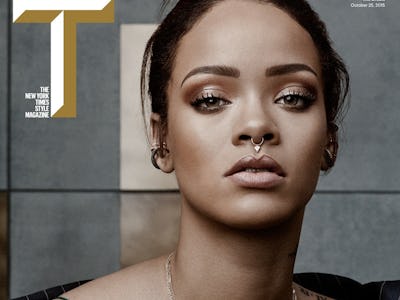 A true surprise came today in the Times Style Magazine: an interview between noted writer, film director, and performance artist Miranda July and … Rihanna. This is not your average interview, not only because Rihanna has not been interviewed in years, but because it was conducted by such a well-known and famously quirky author.
There's powerful discussion of femininity and sexual politics (unclear how Travi$ Scott might feel about this):
''Guys need attention,'' she explained. ''They need that nourishment, that little stroke of the ego that gets them by every now and then. I'll give it to my family, I'll give it to my work — but I will not give it to a man right now.''
I said that it took me a long time to find a guy who wasn't threatened by my power, and Rihanna quietly replied, ''I'm still in that time.''
From nearly the outset, the interview begins to circle around one of Rihanna's primary phobias about her body, with Rihanna eventually taking to her phone to Google:
'' 'Phobia of a big vagina.' … 'Deep.' … This is awful. I can't believe I'm typing this in.''
''Wait,'' I said. ''Deep's not an issue. It's wide.''
''Deep is an issue, hello!''
''Huh. Cause I feel like the — I always feel short-vaginaed.''
Rihanna laughed. ''Trust me, if they can't feel the end, it's like, Cannonball!''
July subtly guides the conversation towards a profound discussion of race. Rihanna opens up about being a black woman in the music industry — not simply a performer but a "businesswoman":
'And, you know, that never ends, by the way. It's still a thing. And it's the thing that makes me want to prove people wrong. It almost excites me; I know what they're expecting and I can't wait to show them that I'm here to exceed those expectations.'
Rihanna then segued into a broader discussion of fraught racial dynamics:
'But I have to bear in mind… that those people are judging you because you're packaged a certain way — they've been programmed to think a black man in a hoodie means grab your purse a little tighter. For me, it comes down to smaller issues, scenarios in which people can assume something of me without knowing me, just by my packaging.'
July's article, though she insinuates herself into it a bit more than one might prefer, is a beautiful microcosm of what makes Rihanna such an amazing cultural presence, and different from her contemporaries. As July puts it:
'If Rihanna has a ''thing'' it's that she changes her thing so often… She hasn't created a persona around herself like Beyoncé, Lady Gaga, Madonna or so many other stars at her level. She doesn't have to manufacture dimensionality, because she actually is soulful, and this comes across in every little thing she does.'