Shea Serrano 'The Rap Year Book': An Interview 
From Kurtis Blow to Kanye, Kendrick, and even Macklemore.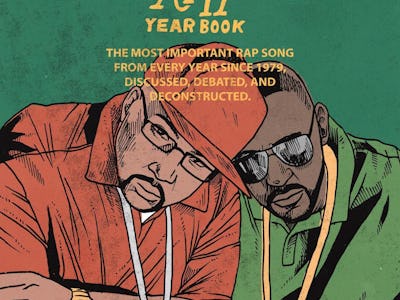 Shea Serrano's Twitter (@SheaSerrano)
On October 13, Shea Serrano will release his second book: The Rap Year Book: The Most Important Rap Song From Every Year Since 1979, Discussed, Debated, and Deconstructed. As of today, the book is in the top ten on the B&N Top 100: Book Bestsellers list, and is making a real push for The New York Times's prestigious Best Seller list. That feat is pretty remarkable, considering Serrano laughingly told me just days earlier "No one's going to buy it!"
The book is a must-buy for anybody familiar with Serrano's writing and his undeniable Twitter presence. As the title suggests, Serrano looks at every year from 1979 to 2014 and determines its most important rap song — not necessarily the best song. It also has 150 pages of illustrations from Arturo Torres, as well as a foreword from Ice-T.
His 2004 section, for example, takes the topic seriously without losing sight of just how fun it is to talk about rap. He picks his song — "Still Tippin'" by Mike Jones — but also includes an extended footnote that reveals Pharrell Williams is, in fact, 137 years old. It's a good balance.
I spoke with Serrano on the phone to learn more about how The Rap Year Book came to be.
What kind of methodology did you use to come up with the song for each year?
Basically, what I tried to do is for each chapter I put together a list of 10 songs. In 2004, these are the 10 songs you think of. I looked through Billboard to see what the biggest ones were when they came out, this and that, who won awards, junk like that. So we put together an initial list, 10 to 15 songs, and then we tried to identify what each of those songs did.
Did it have any impact on hip-hop? Did it have any impact outside of hip-hop? Did it change something? Did it create something new? Was it representative of a trend that was going on? Does the trend still exist? Things like that. Each one of those 10, 12, 13 songs, we tried to summarize what it did in like two to three sentences. When you work it like that, it's easier to see, "Oh, this song is more important because it did 'these things,' versus this song that wasn't as important. It was more successful, but it didn't bring about any sort of change."
That must lead to some really surprising results. There isn't a full list of songs out, but I saw in your interview with the San Antonio Current that Macklemore's "Same Love" was your song for 2012. What other surprises were there?
Yeah, there were definitely surprises because what ended up happening when I was working on it was I was thinking the year 1997 and I thought, "Oh, this is the year when I was doing this and listening to this song a lot." I wanted to put a bunch of my stuff in there because, I mean, it's my book and I wanted to put my own junk in there. But like I said when you listened to everything, you saw, "Oh, well, this might not be the most important song," so that made it easier.
So yeah, there were some that I was surprised to see. You know, I wasn't expecting "The Breaks" by Kurtis Blow in the 1980 chapter. That one, I didn't know a lot about Kurtis Blow. I didn't know a lot about the '80s, early rap stuff. I didn't know that was the first rap song to have a hook in it. He was the first guy to do that, and so, boom! That's obviously the most important one there because that's everything in rap now.
2005, I was really surprised it ended up being Kanye West's "Gold Digger."
Oh, wow! That doesn't sound surprising to me. So what was your thought?
Well I was thinking, "I don't like this song at all." And I didn't realize how big of a song it was because when it came on I didn't like to listen to it. I didn't like that album that it was on. It was probably one of my least favorite of his albums. I didn't pocket what he was putting down. But that's his most famous, most successful song.
At the time I was really into 50 Cent and all the Houston guys. So when that one came, I didn't realize that it was shifting away from what 50 Cent was trying to do. After that, gangster rap was gone. It was just polos and backpacks, like Drake says, after Kanye. Little things like that. It was always that songs that were there, but I didn't pay attention to them or care about them. Those were the ones that caught me most off guard. Like when I read how many copies, singles, he sold off that was I went, "Oh wow, I had no idea."
So what were some that you were disappointed didn't win? Or some of your favorites that were omitted from the book?
"Make 'Em Say Uhh!" [by Master P] was one that was I excited to work on that chapter and write that chapter and research that chapter, and it didn't get in there. "The Rain" by Missy Elliott was another one. I really wanted that one to get in there. And then a bunch of stuff that I knew had no chance. You know, like "Ha" by Juvenile. I wanted that one. I wanted Cash Money, No Limit, I wanted that whole scene. But it just didn't work. There was no argument compared to the other stuff.
Those are some of your favorites that didn't make the book, but of the songs that did, what are some of your favorites?
For those ones, it was stuff like "6 'N The Mornin'" by Ice-T. I really like that one and was excited to learn about all the stuff that was around that one. "Fight the Power" by Public Enemy, that was another one. "Nuthin' But a 'G' Thang," [by Dr. Dre and Snoop Dogg] of course. That was a big time in my life. And "Big Pimpin'" [by Jay-Z and UGK] I was surprised by that one. And then "Grindin'" [by Clipse]. Those were probably my main ones when I was really into learning about that stuff.
The book goes up to just 2014. What would be your pick for 2015?
"Alright" by Kendrick Lamar. I think it's representative of the struggle that's going on inside Black America right now and outside Black America as well. It's just a good song for that and it allows you to talk about these things because that's just how he makes his music. That's why his album was so good. With good kid, m.A.A.d city, it was a fantastic album. It might be his best one because that album was super personal. And then with To Pimp a Butterfly he took all the stuff that was outside of him now and put it into the album, and then, boom, came up with a great thing.