What's It Like Inside a Barrel Wave?
Welcome to the "green room."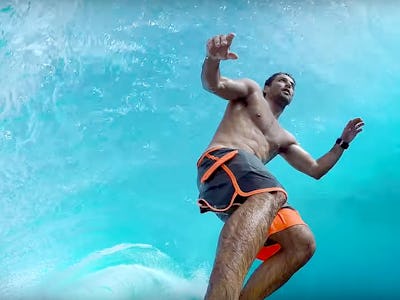 Screenshot via YouTube
Whoa, dude. File this under the coolest thing you'll see today.
Brazilian surfer Bruno Santos takes viewers inside a perfectly executed barrel, something that a good 99 percent of us will never be able to experience.
In a video just posted to GoPro's official YouTube, the Brazilian surfer strapped a camera to the foot of his surfboard and started paddling out to sea before entering the "green room." (That's surfer lingo for the all-too-short moments spent in the barrel of a wave, where the light often makes the water look green.)
While the gorgeous Fijian waters in Cloudbreak look more cerulean than green, there's no doubt that these few seconds of absolute zen are exactly why Santos won his round of Surfline's GoPro of the World Contest this summer.
Way cool, brah.
Check out the first two GoPro of the World winners and see if you think Santos has a chance at snagging the grand $20,000 prize this November.