We Can't Stop Watching This T-Rex Train For American Ninja Warrior
 Will he chomp down on the competition?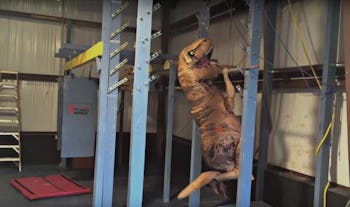 Screenshot via YouTube
Turns out Tyrannosaurus Rex has some serious fitness skills. (Sort of.) Self-proclaimed actor/entertainer/DJ/American Ninja Warrior Reko Rivera went through "t-raining" on an American Ninja Warrior course, but he had a little fun with it and posted the results to YouTube.
Soundtracked by "Walk the Dinosaur," this video might be one of the more ridiculous situations we've seen a T-Rex in. (Believe us, we've seen Barney and imagined what it'd be like if a T. Rex got loose in Minneapolis.) Watching Rivera make his way through the obstacle course in an inflatable dino costume is so goofy looking, you can't take your eyes off of it.
What's even better than just watching some dude stumble around in weird getup is that Rivera's rex is killing it on the course. From the rope climb to barrel rolling on the Balance Tank, he's doing better than we ever could. While the T. Rex can't quite make it all the way up the Warped Wall (darn those tiny arms!) or the monkey bars, it's incredible to see him try.
Feeling inspired? Don't worry, you too can show off at the gym (or win at Halloween) in one of these bad boys, too.