Why Is This Lake Filled With Noxious Foam?
It's no day at the beach here.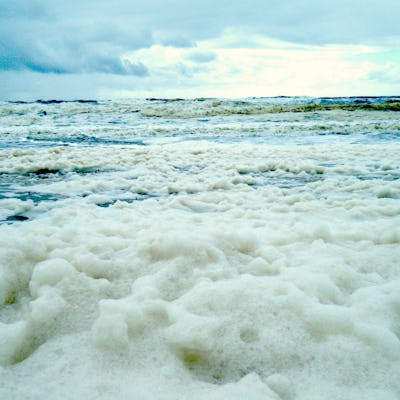 Deeuutee via Flickr
A chain of lakes in India has become overridden with a white, frothy mixture that's wreaking havoc on the people and environment around it. One thing's for sure, you do not want to party in this foam.
Where is it?
This horrific phenomenon is happening in Bangalore, one of India's most populous cities. The foam comes from the city's largest body of water, Bellandur Lake (and the other nearby lakes like Varthur Lake and Agara Lake).
What causes the foam?
One word: pollution. To no one's surprise, this toxic foam is the result of decades of chemicals and sewage entering the lake and creating the world's worst foam party.
Bangalore is India's answer to California's Silicon Valley, filled with IT companies galore. That means there's a high amount of technological waste that needs to be deposited somewhere. Bellandur Lake used to supply water to various villages in the area until the IT companies arrived. Now the lake basically acts as a makeshift landfill which is used by the general public as well as a "garbage mafia" of construction companies, according to the Times of India. Ammonia and phosphorus have saturated the oxygen-depleted lake because of the detergents, oil, and grease found in the area's industrial waste.
The lake also gets 400-500 million liters of untreated sewage each day. Research on foaming bacteria in sewage shows that it's common for foam to build up at activated sludge sewage treatment plants around the world. When conditions are just right, "overnight" foaming events happen due to a lot of fats, oils, and aeration failure in the liquid. This noxious soup makes the perfect atmosphere for the body of "water" to produce massive amounts of foam.
Is this happening now?
Yes. When it rains or gets super windy, the foam situation gets worse. There was a large-scale overnight foam event in late spring, but thanks to monsoon season, things have now gone from horrible to a horror show.
Here's what it looks like in Bangalore these days:
Not only does the foam reek and make people ill, it catches fire. In May 2015, the lake caught fire after a buildup methane.
What's being done
A massive cleanup effort needs to take place in the area before Bangalore can see positive effects on the environment, but the government hasn't placed a high priority on the issue in the past. There's a Change.org petition by Sanchita Jha, a resident of Bangalore, that urges B. Ramanath Rai — the Karnataka Minister for Forests, Ecology, and Environment — to clean up Bellandur. According to Jha, two research students went to get samples from the lake and ended up vomiting after being near the toxic body of water for only half an hour. In the month this petition has been active, it's garnered over 19,000 supporters.
The foam has been present for some time now, but it hasn't always been this way. The Times of India reported that more than 50,000 ducks called Bellandur home just 20 years ago. Maybe with enough local and international support, the local government in Bangalore can put more time and resources towards filling the lakes with healthy ducks, not fetid foam.