The Cubs Will Win the World Series. 'Back to the Future Part II' Said So. [Updated]
Chicago should thank Robert Zemeckis for calling it 26 years ago.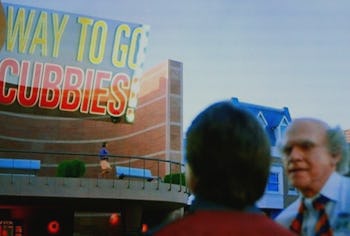 YouTube
Unfortunately the 2015 Cubs were swept out of the playoffs by the New York Mets, dashing any hope of a Back to the Future Part II prediction of a World Series for Chicago's most beleaguered team on Back to the Future Day last year. The 1989 film prophesied that the Cubs would end their century-plus drought by beating a fictional team called the Miami Gators in 2015, but it seems like all Marty McFly needed to do was wait a year to put money on the Cubbies.*
Last night the Chicago Cubs became World Series Champions, defeating the Cleveland Indians four games to three after a wild extra innings game.*
The big win prompted a response by Marty McFly himself who sent a congratulatory tweet:*
Updated 11/3/2016
With their 4-0 win Wednesday night against the Pittsburgh Pirates, the Chicago Cubs cracked the big-boy portion of the playoffs and now stand 12 wins away from a World Series title. You know what that means: Back to the Future Part II has a good chance of predicting this year's World Series winner.
Granted, Robert Zemeckis' 1989 movie had the Cubs, who haven't won the World Series since 1908, sweeping an unnamed Miami team at 100 to 1 odds. Unfortunately the Miami Marlins, South Florida's current MLB team, was eliminated from playoff contention in early September, and as a fellow National League team couldn't face the Cubs in the Series anyway. But considering that in 1989 Miami didn't yet have a team, Zemeckis called that shot pretty well, too.
The Cubs also have better odds than Marty was told: They're currently at 9 to 1 to take the whole thing. If the guy Marty meets on the street could, in fact, have gone back and put some money on the Cubbies, he would've gotten a bigger payoff: Chicago was about a 16-1 longshot to start the season.
The whole prediction of Chicago's impending victory started as a joke from Zemeckis for his time-travel sequel. The director was born and raised in Chicago, and the Curse of the Billy Goat was no doubt weighing on him 26 years ago. We may not have flying cars and Jaws 19 may not be hitting theaters, but the Cubs may win the World Series this year, so don't count out Back to the Future Part II yet.
Here are a few other people who think likewise: