Explained: Why You Can't Remember Anything
If you can't memorize your office phone number, you're not alone.
by Sam Blum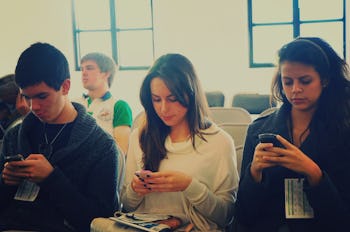 Esther Vargas /Flickr Creative Commons
Our reliance on search engines and the all-encompassing reach of the web is completely ruining our longterm memories, so state the results of a recent study by the internet security firm, the Kaspersky Lab.
According to a survey of 1,000 people from six countries across the European Union, humans have fully engineered a new state of memory lapse called "digital amnesia," which the Kaspersky Lab defines as "the experience of forgetting information that you trust a digital device to store and remember for you."
The study's findings should bode eerily familiar to anyone severely enmeshed in the digital sphere: Over half of the survey's respondents couldn't remember the phone number of their significant other without looking it up first. Contrarily, 60 percent of those queried could pick up the phone and dial their childhood homes from memory.
Perhaps most prominently, the survey indicates that the usual repetition of manually dialing a phone number, or remembering an address, has been stymied by our era's technological convenience. Although it's been thoroughly researched and consequently debated, the relationship between memory and repetition remains an oft-cited pretext for causes of digital amnesia.
"Passively repeating information, such as repeatedly looking it up on the internet, does not create a solid, lasting memory trace," Dr. Maria Wimber, a psychologist at the University of Birmingham, told the BBC. On the other hand, Wimber's research, which probes longterm memory retrieval, bolsters the Kaspersky Lab's findings. "Our brain appears to strengthen a memory each time we recall it, and at the same time forget irrelevant memories that are distracting us," she said.
The study, which is big on coining modern aphorisms, such as the "Google Effect," also drops some alarming bombs when it comes to IT security.
"Around half of smartphone-owning 16 to 34 year olds and 40% of those aged 35 to 44 surveyed for the study admit that their phone holds almost everything they need to know or recall," the study states.
Contrarily, the study found that "Just one in three (34.5 percent) installs extra IT security, such as an anti-malware software solution on their smartphone and only a quarter (23.4 percent) adds any to their tablet. One in five (20.9 percent) doesn't protect any of their devices with additional security."
Perhaps least surprising of the Kaspersky Lab's findings was that people don't mind forgetting things that can be easily retrieved through a routine internet search — but the language employed by the study — which states that more people "use the internet as an extension of their brain," is certainly cause for alarm.