Nicki Minaj Shows Her True Self in 'The New York Times' Profile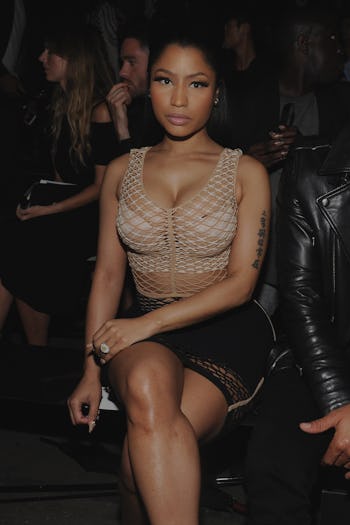 Craig Barritt/Getty Images
Today, The New York Times shared its feature on Nicki Minaj that will run in the newspaper's Times Magazine on October 11. The feature, "The Passion of Nicki Minaj," details journalist Vanessa Grigoriadis's meeting with Minaj at New York's Trump Hotel during Fashion Week. The piece ends with Grigoriadis asking Minaj, "Is there a part of you that thrives on drama?" Minaj quickly retorts, "That's disrespectful," and ends the interview shortly after that.
Grigoriadis was wrong to ask, which she admits thoroughly. The internet seems to agree with Minaj. Many are throwing their hot takes at both Grigoriadis for the question and the Times for catering to a largely white audience while writing about a black artist.
A lot of the flak is justified, but many readers (at least the vocal ones) appear to be missing the point: Grigoriadis includes her own ignorance in the piece without attempting to redeem herself. That honesty is admirable.
Prior to the closing section, the reader learns very little new information about Minaj. She's reluctant to discuss her past, and her feminist commentary still rings true, but she doesn't provide any previously unknown rationale. There's really no good reason Minaj should be revealing. She's in the business of maintaining an image, making records, and selling out shows — not damaging her self-built empire. That's not to say Minaj isn't outspoken. She very publicly called out Taylor Swift (with whom she made up) on Twitter, and then Miley Cyrus at the VMAs. Like those two, Grigoriadis had to, unfortunately, enrage Minaj to bring out her truest sentiments.
Earlier in the interview, Minaj rhetorically asks, "Why are we always stuck having to beg, borrow and steal to provide for our children?" Believing women deserve better societally is not unique to Minaj. Once rightfully pissed off, though, she offers a nuanced take on her belief that women can perpetuate their own subjugation: "That's the typical thing that women do. What did you putting me down right there do for you?… Women blame women for things that have nothing to do with them."
"The Passion of Nicki Minaj" has its flaws, but those perceived shortcomings make it a worthwhile read. The artist profile is quickly becoming a dinosaur. It's truly difficult to speak to another human being and then publish anything but kindness for the world to see. Grigoriadis' piece is more than public relations pandering, and it demonstrates that the journalist can be wrong. Artists are not spectacles at whom we can constantly gawk. She was willing to take the bullet and be blatantly wrong to show that to the reader.