Snowden Says We're All Safer After European Court Ruling
The whistleblower's 2011 revelations probably led to this moment.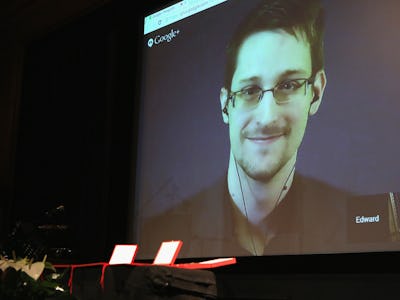 American whistleblower and Twitter n00b Edward Snowden says we're all safer after the European Court of Justice declared invalid today the international agreement known as the "safe harbor" pact.
The continent's highest court ruled against the agreement, under which it was very easy (and lawful) for tech companies like Facebook, Google, and others to transfer data back and forth between the United States and the European Union. The ruling makes it much more difficult for companies to gather the digital data — Google searches, for instance — of the millions of European users who use their applications every day.
The effects may not be very evident in the short-term, since most multinationals already have agreements with the E.U. hammered out that should allow them to keep sliding data across the Atlantic. But the ruling might have big ramifications in the longterm, since it allows officials in each country to create bigger restrictions on data transfer if they elect to do so.
Countries like Britain and Ireland have been open to the transfers in Safe Harbor, while others, like France and Germany, have taken steps to protect citizens' privacy. It remains to be seen what kind of noticeable effect this will have on trade and commercial business dealings between the U.S. and the E.U., but most big companies are probably viewing the ruling as a blow.
(As the 28-country European Union's highest court, the European Court of Justice and its decisions cannot be appealed.)
Snowden, the famous (or infamous) whistleblower of the NSA's extensive domestic surveillance programs, weighed in on Twitter to praise the decision.
Snowden's revelations arguably played an important role that led to this decision. The leaks about the N.S.A.'s actions have created a significant schism between the United States and E.U. on approaches to online privacy. E.U. countries tend to hold privacy up as a critical right among citizens, while the U.S. government has steadfastly held up the view that it ought to have the power to gather users' data for national security purposes.
The current case was actually brought to the court based on a complaint by Max Schrems, a 27-year-old Austrian citizen who argued that his and other Europeans' online personal data was being compromised when Snowden revealed that Facebook agreed to cooperate with the N.S.A's surveillance program.
While Snowden is no doubt joyous about the latest ruling, he still remains in a precarious situation while exiled in Russia. Snowden told the BBC recently that he would like to return home to the United States, and has even offered to go to prison as part of a plea deal. The U.S. government, he says, has not responded to his overtures. Snowden is currently charged with three felony counts, including violations of the U.S. Espionage Act.