Samsung Wants You to Netflix and Chill in a Himalayan Monastery
The winner of Samsung's "Catch-Up Grant" gets to catch up on all of the TV.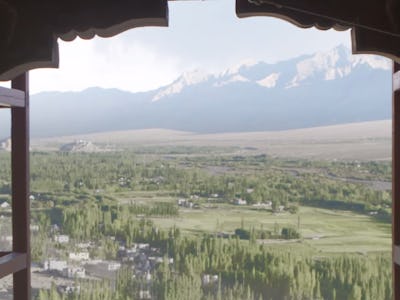 Busy TV bingers take note: Samsung is offering one lucky viewer the chance to catch up on all the shows ever during a 100-night stay in the peace and solitude of a Himalayan monastery. That's roughly enough time to watch the entirety of Downton Abbey 50 times.
The "Catch-Up Grant," as the narrator explains in the promo video, is meant to "aid those unfortunate enough to have fallen behind on the latest TV series so they can finally catch up with friends and family and catch up with today's popular conversations again." But it's really just the company's way of promoting its new SUHD TV.
The winner gets to spend 100 days in the Buddhist temple, basking in the glow of the company's 65-inch, super-high-definition curved-screen masterpiece. And, because it's a grant, the winner gets paid for those 100 days off — roughly the Kronen equivalent of $1,800 a month.
Dedicated TV viewers can apply for the grant by uploading a 30-second video explaining why they deserve to play catch-up in a spiritual sanctuary. The eight most deserving entries will go head-to-head in a final competition in Stockholm. Unfortunately, like so many good things, the contest is only open to Scandinavians.