NASA's Project Apollo Archive Releases Thousands of Moon Landing Photos 
Huge images taken by the astronauts themselves are now available for public download.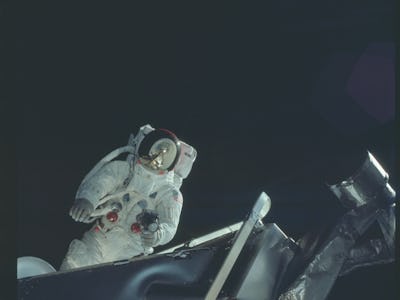 Project Apollo Archive
Prepare to steal some company time. More than 8,400 high-resolution photos taken by Apollo astronauts on their way to the moon have been uploaded for viewing and downloading to the tremendous Flickr of the Project Apollo Archive.
Project curator Kipp Teague described it as a new "online reference source and repository of digital images pertaining to the historic manned lunar landing program" on the project's Facebook page, which has already attracted more than 20,000 followers.
"Around 2004, Johnson Space Center began re-scanning the original Apollo Hasselblad camera film magazines, and Eric Jones and I began obtaining TIFF (uncompressed, high-resolution) versions of these new scans on DVD," Teague told The Planetary Society. "These images were processed for inclusion on our websites, including adjusting color and brightness levels, and reducing the images in size to about 1000 dpi (dots per inch) for the high-resolution versions."
The images follow astronauts through training on Earth to launch to landing on the lunar surface. Your tax dollars paid for the trip in 1969, so get on in there and enjoy the vacation snaps.