Finally All Those LinkedIn Emails Are About to Pay Off… Literally
"Please add me to your LinkedIn network."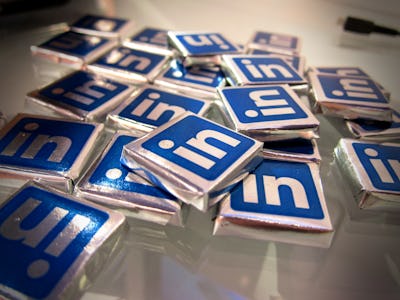 Nan Palmero via Flickr
"Please add me to your LinkedIn network." We've all seen those seven words hovering in our inboxes, part of hundreds of emails that will most likely be ignored and relegated to our spam folders.
Putting up with a merciless barrage of e-missives from LinkedIn over the years is about to actually pay off.
Late on Friday afternoon, LinkedIn sent its users yet another email, but this time it wasn't about connecting with anyone. Turns out the company just settled a massive class-action lawsuit over the ridiculous number of emails they send out.
LinkedIn gets a bad rap, but anyone who's used it knows the site does its damnedest to keep you in touch with just about anyone who might be tangentially related to your professional life. In fact, sometimes it tries a little too hard to keep in touch with folks.
The culprit? That pesky "Add Connections" feature. In theory, it's a great idea to reach out to the people in your contacts list and bolster the number of connections and recommendations on your profile. What wasn't great about that feature were the incessant reminders that you still had yet to accept someone's invitation.
If you ignored the first email, LinkedIn would send you another. And if you ignored that one, you'd get another still. All those reminders make you look like you're pretty hard up for some profesh friends, and users weren't happy that the company was sending multiple emails (featuring their profile pictures) without their consent.
Now, LinkedIn is issuing a $13 million apology.
If you signed up for the network between September 17, 2011 and October 31, 2014, and used the "Add Connections" feature, you're due for some cash.
The company has put that $13 million into a fund that'll be paid out to users whose claims are approved. If the payment ends up being less than $10 for each approved member, then they'll throw an extra $750,000 into the pot to beef up the checks.
If you're eligible for some of the dough, you can go to the Add Connections Settlement site and file a claim before December 14, 2015. If you're not sure, there's an FAQ there that will help you figure it out.
In addition to the money, LinkedIn is also changing the way it sends out invitations. (Sort of.) They'll still send out two reminders to your potential connections, but there will be clearer disclosures that let you know you'll be bugging your friends in advance. Later this year, you'll also be able to quash those reminder emails by canceling your invitation.
It's not a lot, but thanks to all those annoying LinkedIn notes, you'll probably rake in just enough to get a cup of coffee and connect with someone in real life.