The Internets Are Rallying for Chris Mintz, Hero of Oregon College Shooting
The man who took seven bullets trying to stop the shooter has seen an outpouring of support.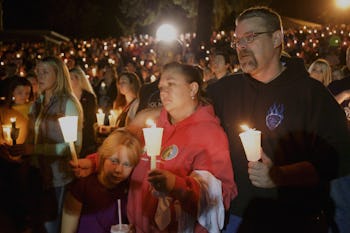 Michael Lloyd / Getty
Army veteran Chris Mintz took seven bullets in an attempt to stop the shooter at Umpqua Community College on Thursday. Since then, the internet has rallied in support of Mintz, who is still in hospital but expected to recover.
The shooting killed 10 people and injured nine more. Mintz looked up at the shooter after being hit and said, "It's my son's birthday," according to the Daily News.
A GoFundMe page set up by Derek Bourgeois, who says he's Mintz's cousin, has skyrocketed past its $10,000 goal and netted $430,000 as of Friday afternoon.
"During the shooting both of his legs were broken and he is going to have to go through a ton of physical therapy," writes Bourgeois on the site.
"While Chris is not the type of person to ask for it, he is going to need all of the help he can get while he recovers!
"Myself and many family members have been swamped with requests for us to setup a gofundme page, so this is us fulfilling that request and we appreciate your concerns and assistance."
Mintz has apparently gained quite a bit of a fan club after his heroic act. His Facebook friend list has more than doubled in recent days.
A Facebook "community page" set up for Mintz has alredy collected 6,400 likes.
A second fundraiser has been set up by Planting Peace, an organization dedicated to raising money for good causes.
"There are no words or actions that can heal the hearts of the families and community; we can only hope to show our love, support and compassion for those impacted in small gestures," Planting Peace President Aaron Jackson tells Inverse in an email.
"Planting Peace would like to raise funds to help Chris cover his medical bills as a small way to honor the lives he tried to save, and to show appreciation for his actions that day. Even in the face of unimaginable horror, true heroes do still exist."
The organization is not yet in contact with Mintz's family, Jackson says. They plan to donate the money raised to his medical expenses, with any remainder going to his son's education. "A birthday gift, we shall call it," the fundraiser page says.
High profile supporters of that campaign include Rainn Wilson, Edward Norton, and Sophia Bush.
The Greater Douglas United Way is accepting donations to support the broader community of people affected by the shooting.