Ello Asty, a 'Force Awakens' Character, Was Inspired by the Beastie Boys
'Star Wars' director J.J. Abrams is putting shame in your game.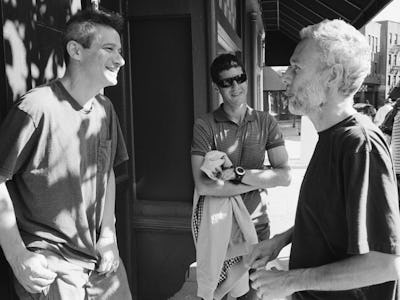 www.facebook.com/beastieboys
Names are pretty weird in the Star Wars universe. Luke is pretty straightforward, but Han? Leia? Anakin? Who could forget Elan Sleazebaggano from Attack of the Clones? All of those make the galaxy far, far away pretty far out, but what about The Force Awakens? X-Wing Resistance fighter Poe Dameron is named after director J.J. Abrams' assistant. Captain Phasma is named after the 1979 cult horror classic Phantasm. What else is there? Enter: Ello Asty.
When Force Friday hit, unleashing untold amounts of action figures onto kids and man-boys, most fans reached first for the three recognizable lead characters. But we know as much about them as J.J. Abrams has let us in on. It's the secondary characters who have yielded some interesting, if not totally unrelated details. Described as a Resistance X-Wing fighter pilot, Ello Asty didn't get his name from just anywhere. In fact, he got his name from three MC's and one DJ.
While some thought Abrams planted a sly phonetic reference to his smash TV show Lost with the new character (Ell-O-As-Ty), it's now speculated that the character is named after one of Abrams' favorite groups: The Beastie Boys.
The director previously included the Beasties' song "Sabotage" in 2009's Star Trek reboot, and it looks like he's paying homage to the New York City rap pioneers in Star Wars too. Ello Asty refers to the Beastie Boys' 1998 album Hello Nasty. Drop the "H" and "N" off of the album title, and voila.
Still skeptical? It's all connected like a Lego set: a close-up of Asty's Resistance helmet from his action figure packaging reveals a phase in Aurebesh — Star Wars' fictional language — that looks suspiciously like to "Born to Ill." It's a great reference to Stanley Kubrick's war film Full Metal Jacket, but it's also a reference to the Beastie Boys' 1986 album Licensed to Ill.
We'll have to wait and see if Abrams plants any other references to Mike D, Ad-Rock, and MCA in The Force Awakens, but we'd be pretty okay with "Intergalactic" playing over the end credits.