The Stock Market Isn't Taking Hurricane Joaquin Seriously
Investors, just like meteorologists, aren't sure what's about to go down.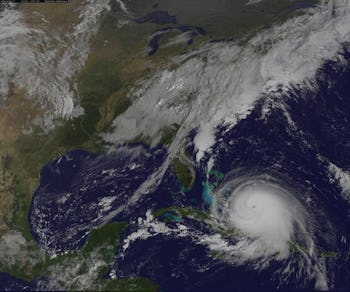 NASA/NOAA GOES Project
The New York Stock Exchange says it plans to stay open if Hurricane Joaquin hits Manhattan. "We are prepared to invoke our disaster recovery procedures if necessary in order to maintain all critical functions for trading and operations," a spokesperson told told Reuters. Investors, it seems, aren't worried either. The Wilshire 5000 Total Market Index has climbed over the past couple days as the storm has creeped towards the East Coast.
Neither of these pieces of news should come as a galloping shock.
In 2012, Hurricane Sandy wreaked havoc on Lower Manhattan, forcing the closure of the NYSE trading floor for two days. The exchange had wanted to put in place back up procedures for remote trading, but investors weren't prepared to use the new system. Despite the chaos on the ground and predictions that Sandy's damage would send shockwaves through the economy, the stock exchange, when it reopened, did fine.
Here's how the Wilshire 5000 did in the days leading up to, and following, the closure:
In Sandy's wake, the NYSE tested its back-up systems and prepared itself for the next big hit. One could argue that hit came when trading systems went down this summer, but nothing really came of that. A fact that is, in and of itself, worth considering.
Does this mean that investors are predicting that Joaquin will peter out into the ocean rather than striking land? Not necessarily. It's more informative to look at the stock of specific companies that benefit from post-disaster relief to tell the story.
Generac, a company that sells generators, saw a sharp boost on Wednesday with news of Joaquin's potential visit. But that spike deflated on Thursday, and by Friday was back to pre-Joaquin-news levels.
Owens Corning, a roofing and insulation company, has seen more sustained gains over the past three days.
What's the takeaway?
Investors are clearly no better at predicting Joaquin's damage than meteorologists. And at this point, it's just too early to say.