King Tide Event Continues to Threaten Floods in Florida and Elsewhere
The supermoon brought super photos and not-so-super flooding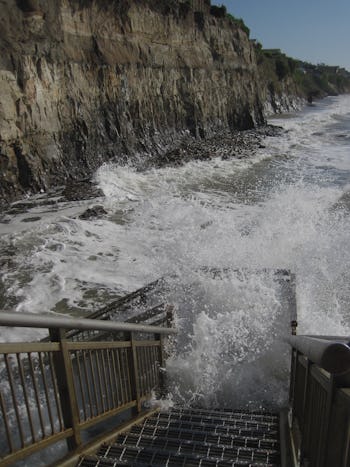 Claire Fackler on Flickr
Citizen scientists are using smart phones to track high tides around the world this week. The flooding is bad, but some of the photos are pretty neat.
The supermoon resulted in king tide events that are expected to last through Friday.
King tides are regular, predictable astrological events that occur when the moon is closer than normal to the Earth.
But king tides also interact with other local factors — sea level rise and storm events — that can take a high tide from extraordinary to disastrous.
This is what Miami Beach looked like this week:
As of Thursday afternoon, flood warnings are still a thing in Florida, Massachusetts, New York, New Jersey, Virginia, and North Carolina.
If Hurricane Joaquin comes down hard anywhere on the East Coast, that's going to compound the effect of these extra high tides. Virginia and New Jersey have already declared a state of emergency in anticipation of the storm's arrival.
Several states — including Rhode Island, California, Washington, Maryland, and Oregon — have king tide and storm event tracking programs where residents are encouraged to take photos and share them.
You can also follow along on Twitter or Instagram using #kingtide.
Here are a few of the most epic shots from around the world: