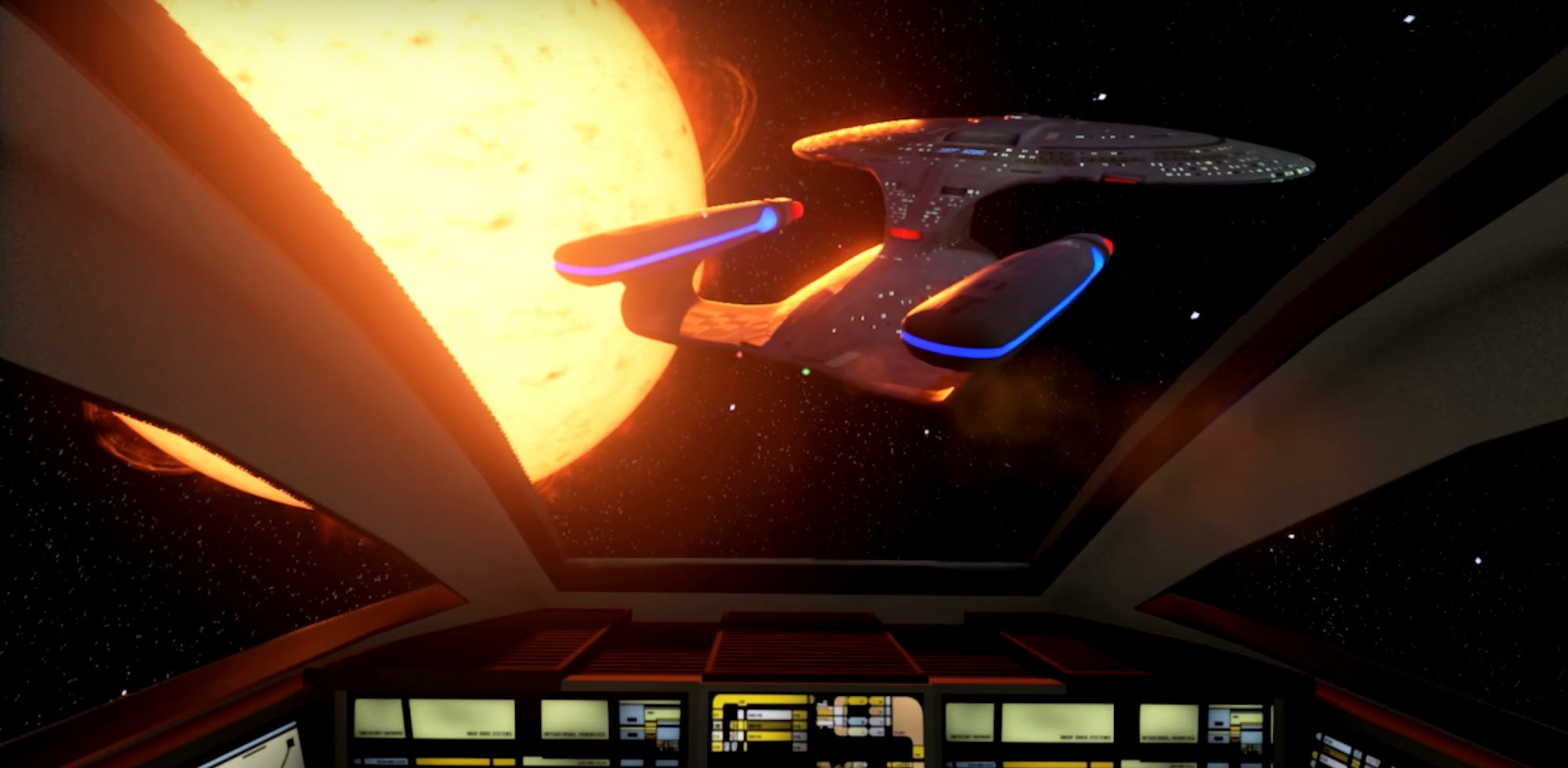 Entertainment
'Star Trek' VR Builder Has Big Plans for His USS Enterprise
Walk around the virtual reality Starship Enterprise.
Jason Briney / YouTube
Growing up, Jason Briney had always wondered what it would be like to walk around the USS Enterprise-D, the flagship of Star Trek: The Next Generation.
"I grew up on Next Generation as a kid, and it just kind of lit up my imagination," the 31-year-old tells Inverse. "I was like, the ship is so huge, I wanna walk around in it and be on there and take part in what they're doing."
So he built it. Well, a virtual reality model of it, at least. Briney, a Michigan-based artist and video game art instructor, is using the game developing software Unreal Engine 4 to recreate the whole ship in intricate detail.
For reasons of obvious epicness, the project has attracted a lot of attention. The YouTube walkthrough of his work to date earned more than 400,000 in a little over a week. That count would be higher, but earlier this week it was pulled down for copyright violation.
There's no indication of why the material was flagged, although Briney suspects that audio he took from Star Trek: First Contact may have alerted YouTube's automatic copyright detection software. It can still be watched on Vimeo:
(Vimeo has since taken the video down.)
Briney says he's reached out to CBS to try and open channels of discussion about his project and potential eventual licensing, but that there isn't an easy way to get ahold of the right person at the massive corporation that owns the Star Trek franchise.
Inverse also reached out to CBS to ask for information on why the YouTube video was removed, and if the company has policies around fan-generated derivative works, but a spokesperson declined to comment.
But other non-official Star Trek products have gotten traction. The most significant is probably Axanar, a feature film project that has raised more than a million dollars on Indigogo. Axanar appears to have the consent of CBS, so long as the creators don't make a profit from the film and follow certain guidelines.
Briney says he won't contest the decision to take down the video, but instead he will post it again in the next few days using only non-copyrighted audio. And he'll continue to reach out to CBS to get their blessing on the project.
And it's a huge project. After more than a year of work, the exterior is mostly done and the upper four decks are partially complete. But the whole ship has 42 levels and is designed to carry more than a thousand passengers and crew.
While the project is far from finished, a lot of the spaces in the ship that are featured in the series have been recreated with attention to fine detail — and a cheesy '90s aesthetic.
The best part so far, says Briney, was when he put on his Oculus Rift virtual reality glasses and stepped into the bridge for the first time.
"I put the glasses on, and I was standing right in the center of the bridge looking around and just hearing the audio. It was a very surreal moment.
"Sometimes in Oculus Rift demos, you don't feel a sense of what people are calling in VR a 'presence.' But I definitely had a very big moment of presence, just feeling like I was there," he says.
"I just walked up and looked at some of the materials I made, and I really felt like I could put my hand on the chair. I'm looking around, I'm like 'Oh, where's the crew?'"
The first goal is to create a virtual museum that fans can look around and explore.
The pie-in-the-sky goal would be to have the ship populated by crew and fans that can interact with each other, as in a massively multiplayer online game, says Briney.
Despite the hiccup, the project is "still moving full steam ahead," says Briney.
He's set up a Patreon page for fans who want to financially support the work and be involved in its development.
He hopes that he'll have some sort of product ready for release next year, for Star Trek's 50th anniversary celebrations.
One day, he hopes all the Trekkies who ever dreamed of stepping foot on the Enterprise will be able to visit the ship together.
"We like Star Trek because it's an optimized view of humanity. It's not some 'dystopia and the world has ended' kind of bleak future. Humanity has bettered itself. And so we want to go there."