Netflix Debuts New 'Jessica Jones' Teaser Trailer
The streaming service keeps offering cheeky glimpses into their second Marvel series.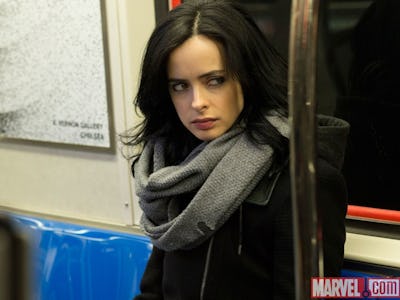 Marvel.com
Marvel just dropped a new teaser trailer called "Nightcap" for their upcoming Netflix series Jessica Jones, starring Krysten Ritter in the titular role. Just like the first clip, it sees Jones dealing with what looks like a pretty rowdy situation fairly handily.
In the new teaser, Jones walks up to a jukebox and uses her super strength to kickstart Joan Jett's "Bad Reputation" before strolling across a bar to take a shot with the beaten and battered leftovers from a bar fight strewn across the floor.
Specifics about the plot of the show are scant, though the Marvel comics iteration is a character who opened up a detective agency and renounced her superhero moniker and abilities of flight and superhuman strength. If the two teasers are any indication, she isn't taking her new post-hero life too well with all the booze. We'll get to see how that plays out over the show's thirteen one-hour episodes.
The show looks stylistically similar to Marvel's other Netflix show, Daredevil, with its Hell's Kitchen location. But it also looks like it'll have a kind of cheeky Guardians of the Galaxy humor to it. Jessica Jones is the next phase in Marvel's planned group of Netflix shows leading to their sort of smallscreen Avengers show The Defenders.
Following Jessica Jones debuting on November 20, Netflix will introduce Luke Cage and Iron Fist, which don't have premiere dates yet.
Besides Ritter, the cast features David Tennant as Jones' adversary Kilgrave, Mike Colter as Luke Cage, Rachael Taylor as Trish Walker, Carrie-Anne Moss, Eka Darville, Erin Moriarty, and Wil Traval.