This Week In Podcasts: Simmons Returns and Buster Keaton Screws Up
This week, we visit old Hollywood and enjoy the return of one of podcasting's biggest stars.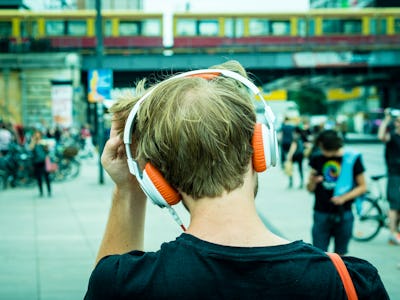 Chip Somodevilla, Getty Images 
Yesterday marked the return of podcast giant Bill Simmons, so Inverse caught up on his new show along with other podcasts around the web.
'The Allusionist'
Episode: "Step Away"
I've been willing my way into Helen Zaltzman's The Allusionist, which is an etymology podcast along the lines of Slate's Lexicon Valley but, amazingly, less street. The reason I want to like it — and I do like it — is that Zaltzman's bro is Andy Zaltzman, who now rocks out monthly with John Oliver on The Bugle. Helen is the less funny sibling, but she's got a keen eye for the trivial. Her take of the "step"-ifying of the modern family was compelling. Why do we default to language that makes the partners of remarried parents seem so secondary? Parent, it seems, is as parent does. Anyway, it's worth a listen if you're either a child of divorce or know someone from a broken and rebuilt home (if you're American, you do). - Andrew Burmon
'MGM Stories'
Episode: "Buster Keaton's Biggest Mistake"
I've mentioned this show on here before, but Karina Longworth's podcast You Must Remember This is such a brilliant show about the history of Hollywood. She switches up the subject matter in 10-12 episodes runs. Last season was the absolutely brilliant arc about Charles Manson's effect on California following the Manson murders.
This season goes back to Hollywood's beginnings and tracks the controversies surrounding the prominent studio MGM. The latest episode, about silent film legend Buster Keaton signing a lucrative contract with the studio in the '30s, which he later called "the worst mistake of my career," was particularly great. It challenges the assumption that these golden cinema stars that we take for granted were always geniuses, churning out classic after classic. In fact, Keaton struggled with his cinematic output and a drinking problem during what were supposedly the best years of his career. The episode is a great window into the inner workings of someone seen as bigger than life. - Sean Hutchinson
'The Bill Simmons Podcast'
Episode: "Movies & Goodbyes"
Bill Simmons is back. The former ESPN columnist and founder of Grantland is back in the podcast with his new corporate overlords HBO. It's been about five months since we've heard from the Sports Guy and he wastes little time taking swipes at his former employers and co-workers. But petty Bill Simmons isn't his best side, instead it's him diving head first into pop culture and sports with a zeal that's certainly inspired many fans and critics of his work. Still if one's been longing for the return of one of the most divisive members of sports media, know that knock him down once and he'll come back stronger. - David Turner