Searching for Armin van Buuren, Usher, and Luke Bryan Online Is Dangerous
Googling the trance king leads users to malware-ridden sites.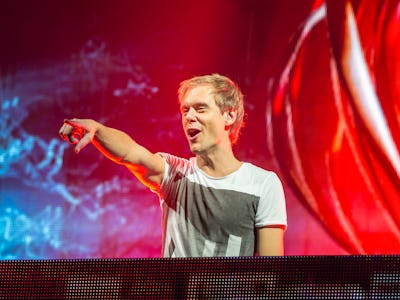 Dutch trance music producer Armin van Buuren is still relevant — at least to hackers and cyber criminals.
Of all the malware-riddled celebrity searches analyzed in Intel's annual "Most Dangerous Celebrities" study, van Buuren topped the list.
The study, conducted by Intel using its own data, looked at the celebrity searches that were most likely to lead to malicious sites exposing users to online threats such as spyware, adware, spam, phishing, or viruses. Country stud Luke Bryan and perennial baller Usher round out the top three.
Seven of the top ten most dangerous celebrity searchers are big-budget musicians. Turns out stingy music lovers are easy targets for hackers: According to Intel's press release, one in five searches for "Armin Van Buuren" together with "free MP4," "HD downloads," or "torrent" landed users at a malicious site.
Searches for comedians tend to rank high on the dangerous celebrity list, most likely because of the high volume of searches for free streaming TV.
Last year, Jimmy Kimmel topped the list (he's in 26th place now), and Amy Schumer and Betty White both made the top 10 this year.
Predictably, Intel's advice is straightforward: Don't use third-party sites to find music and movies, you cheapskate, because you might end up losing a lot more than a few dollars. (And seriously, ask yourself why you're searching for Armin van Buuren.)