Why You Might Actually Pay for YouTube's Upcoming Monthly Subscription
For many, $10 a month is a small price never to see another streaming ad on the site. 
by Sam Blum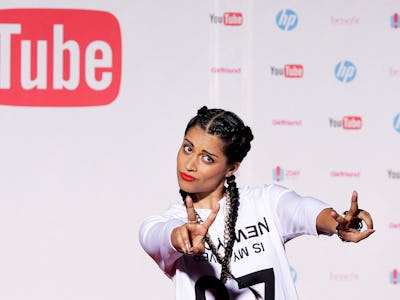 Getty
Ads have always been part of the YouTube experience. They've been a necessary evil for over 10 years; consistently hawking a barrage of annoying commercials so that the company could survive and grow via ad revenue. But, as per an email blast sent out to YouTube's teeming network of content owners last week, the company confirmed that it will soon be "launching a new ads-free version of YouTube, available to fans for a monthly fee."
Re/Code reports that parent company Google has floated the idea of a $10 monthly fee for a combination of both YouTube's potentially ad-free video streaming in addition to YouTube Music Key, the much vaunted music service that launched in beta-form last fall.
The full memo to account-holders who run ads is on Re/Code; the crux for you, the YouTube viewer, is in these two paragraphs:
"To give fans more choice we will be launching a new ads-free version of YouTube, available to fans for a monthly fee. This service will create a new source of revenue over time that supplements your advertising revenue. That's why an overwhelming majority of our partners — representing over 95% of YouTube watch time — have asked for and signed up for this service.
As you heard in our previous emails, we want to ensure that fans who choose to pay for an ads-free experience can watch all the same videos that are available on the ads-supported experience. That's why we're asking you to update your agreement to reflect the updated terms for the ads-free service."
The ability to buy your time back from YouTube, skipping its swarms of ads, is a happy bit of internet news. Think about it: How many times have your YouTube visits been pervaded by trailers for some inane horror movie or the next installment of the Fast & Furious series? The answer: All of the times. Everyone knows it's hard to listen to an entire album on YouTube without being confronted with a glut of ads, counting down the five four three two one seconds before you can Skip Ad. Soon, the process of swatting away commercials is pretty damn simple: Just pay a few dollars.
The possibility of eliminating ads from a YouTube that offers dual video/music streaming will give the service a marked advantage over the internet's biggest music streaming providers, all of which charge a few dollars a month for unlimited service. This means you'd be able to get more out of YouTube for the same amount of money as Spotify, and also formally bid adieu to the badgering little yellow tabs that intersect multi-track albums, like this one:
One might argue that the purpose of a subscription is to gain access to premium content or other goodies that might not be readily available on a site straight away. While that might be true for a service that limits your usage or forces you to listen to ads before you pay (see: The New York Times paywall or Spotify), what YouTube is doing is allowing people to really customize their own experience by replacing some of the company's ad revenue. It's kind of a weird model, but one that speaks directly to the democratization of content and user-experience.
YouTube is pretty much saying: "If you don't like commercials, eliminate them entirely from our website and you'll never see them again." For a video site with one billion monthly active users, it shouldn't be hard to find a few million, give or take, who will take up that offer.