Season 3 of 'Twin Peaks': What We Have to Look Forward to
18 new episodes, a novel, and at least a few answers.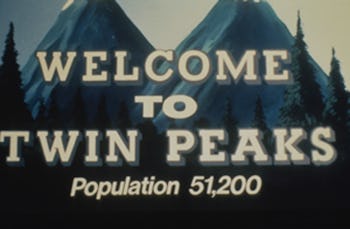 I remember tearing up when I finished Twin Peaks for the first time. It had gotten me through a difficult period (the summer after college), and I just wanted there to be more — to be able to escape that world whenever I wanted, indefinitely. Mine was different than the average Peaks viewer's experience, which usually includes some degree of difficulty in getting through all the bizarre, couldn't-possibly-care plotlines in Peaks' Season 2. Yes, Lynch's involvement had faded at that point, and yet the way in which the show split wide over into a bizarre, genre-hopping polyglot was something I couldn't help but love, even James' fraught romance with the dastardly Evelyn Marsh (Annette McCarthy) and Nadine (Wendy Robie) becoming a cheerleader.
Peaks fans, generally, were overjoyed as much as bewildered to learn that Lynch had signed on for a Showtime-helmed reboot of the show he and co-creator Mark Frost pushed to air over 25 years ago — the water-cooler program which changed the definition of what a television show could be. But healthy skepticism should be maintained when considering revisiting such an inimitable and of-its-time property.
The obvious upside is that this is David Lynch working, not the many-headed team behind a beloved comedy franchise or a legacy property with a more checkered past. The director has never been one for following any muse but his own, even to a frustratingly uncompromising extent. If he was agreeing to revisit Twin Peaks, Lynchians would argue, he was doing it because he really had something new to say. And he is directing every episode.
The first intimation of new Peaks in 2013 affirmed the lack of boundaries, continuity or standard logic Lynch ascribes to the Peaks universe (See the surreal and polarizing Peaks film Fire Walk With Me for further evidence). Ray Wise (aka Laura Palmer's father and [redacted], Leland) paraphrased a comment made by Lynch about his openness to a revamp: "'Well, Ray, you know, the town is still there. And I suppose it's possible that we could revisit it. Of course, you're already dead… but we could maybe work around that.'"
In October of last year, it was confirmed that it was actually Happening Again, on Showtime, in a nine-episode series. The station threw up a budget teaser.
Excitement built; Kyle MacLachlan got hammy and walked on stage to the theme in an Agent Cooper suit with a cup of coffee at a Showtime event. Most of the cast members directly or indirectly confirmed that they would be participating, first Bobby Briggs (Dana Ashbrook) and Laura Palmer (Sheryl Lee), then everyone from Ben Horne (Richard Beymer) to the Log Lady (Catherine Coulson) to Shelly Johnson (Mädchen Amick) capricious heartthrob Audrey (Sherilyn Fenn).
In the spring of this year, however, it seemed as if the necessary funding wouldn't be in, and Lynch backed out.
This caused a month and change of consternation, during which fans and the cast alike pleaded with Showtime and Lynch to figure things out. Then:
The issue with the delay in solidifying Lynch's contract, however, is that the original 2016 release date will likely be pushed back a year. But the exciting part of the renegotiation was that the series was extended to 18, rather than 9 episodes.
There is so much to look forward to: In advance of the series, Mark Frost is also set to release a novel expanding on the world of the show. Since the sequel is set in a present day universe (therefore, 25 years after the original events of the show), Frost's novel will take into account the intervening time.
In July, Lynch was seen scouting locations in North Bend, WA (where the original series was filmed), and shooting supposedly began this month. The pie-and-coffee-serving Double R Diner was restored to its old form, and you can virtually tour it here (though some props were moved out):
Frost's comments about the series we can expect have been encouraging:
"I think there will be a lot of things that people have wanted to know over the years that if they pay close attention, they are going to be satisfied… I think you can safely say that the mystery in Twin Peaks as we started to explore more is very large, there are many aspects to it and the hope is that people will find things that they are interested in in all sorts of things related to the larger mystery. And that will include all the storylines we've dealt with up until now… There will be a very strong central storyline."
This would suggest that we may get some of the answers about the series lurking in the back of our brains cleared up, in a way that Lynch seemed to make a point not to do in Fire Walk With Me.
Despite all that Frost, Lynch, and Showtime have intimated, though, we don't really know anything concrete as what to expect narratively, and apparently, it's no use asking anyone else. As Catherine Coulson (aka The Log Lady) put it at a Q&A at the yearly Twin Peaks convention in Washington state: "We all signed what's called a non-disclosure agreement… but we don't have anything to disclose."