A Solar Phone Charger Will Power Business in Africa
Living off the grid is hard, especially when your livelihood depends on it. That's where Little Sun Charge comes in. 
by Sam Blum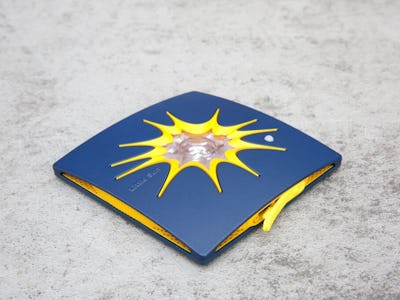 Little Sun
It's derided as a first-world problem, but not having a way to charge your phone is one of the most consistently annoying issues of daily life in the 21st century. But for those who live in remote areas, a dead phone battery can amount to something more serious, especially when someone's livelihood hinges on access to a phone with a fully-charged battery.
That's why Little Sun, a Berlin-based company that develops clean solar energy projects for developing countries, is fast procuring funding via Kickstarter for Little Sun Charge, a solar-powered cell-phone charger that the company believes is superior to competing products currently on the market. Little Sun plans to disseminate the product in Sub-Sarahan Africa, where many people don't have proper access to sprawling power-grids.
Speaking in the company's Kickstarter video, Little Sun co-founder Olafur Eliasson, says "in Ethiopia for instance, we have seen firsthand the essential need for quality phone chargers in communities off-grid."
The Solar Charge isn't Little Sun's first foray into Africa, though: The company's first product, the Little Sun Solar Lamp, made waves across many countries throughout the continent and has given thousands of people in off-grid communities a safer alternative to typically dangerous kerosene lanterns.
"In off-grid regions, kerosene lanterns are commonly used for light, but they emit toxic smoke and carry the risk of burns and house fires. Using Little Sun instead means people can work, study, cook, and socialize at night — safely," says Frederik Ottesen, a solar engineer and co-founder of Little Sun. Ottesen adds that "a night of breathing a kerosene lantern's emissions is equivalent to smoking 2 packs of cigarettes."
Through their endeavors in Africa, the company was pressed by people in remote areas for a method of powering their cell-phones via the same solar energy used by the Little Sun Lamp. "When distributing [the lamp] in rural areas in Africa, people kept asking about a way of also charging their phones with Little Sun. Lots of people in Sub-Saharan Africa actually depend on their mobile phones for their livelihoods," Ottesen says. Little Sun, which has over 400 sales agents in Africa according to Ottesen, was testing a prototype for the Little Sun Charge in Zimbabwe last July.
The design of the Little Sun Charge makes the device look like an external hard-drive. It's small enough to transport by clipping to a backpack, but it's brimming with highly efficient SunPower solar cells and "a monocrystalline solar panel on the back," according to Ottesen. The Solar Charge is sleek, convenient, and easily accessible through a universal USB port. The device also doubles as a lamp too. "Little Sun Charge has a LED light on the front, which gives you bright light for four hours. But you can also use the dimmer function and get more than 50 hours of light in the lower levels," says Ottesen.
Little Sun has sold more than 300,000 solar lamps worldwide, but judging by the tenor of their Kickstarter Campaign, which surpassed its $50,000 goal by 300 percent in five days, there should be plenty of Little Sun Charges cropping up all over the world pretty soon. A wide dispersal of the Little Sun Charge will only further embolden the company's mission, according to Ottensen.