Perlan 2 High-Altitude Glider Soars to 5,000 Feet in First Flight
The Perlan 2 Glider crosses a major barrier on its way to the edge of space.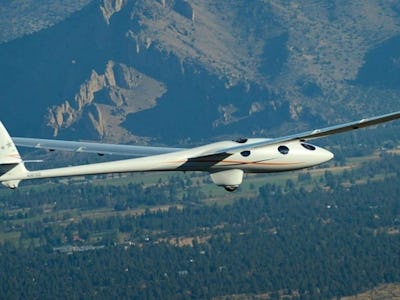 Perlan Project
The engineless aircraft designed to one day set a new world altitude record just straight up murdered the sky on its first test flight this week. Launched to 5,000 feet above the Redmond Municipal Airport in Oregon, Airbus's Perlan 2 glider has only scratched the surface of its potential.
A flight next year shoots for 90,000 feet at more than 400 mph, at which point its crew will need to rely on the pure oxygen delivered by a rebreather system similar to those employed by astronauts, Business Wire reports.
Because the glider will be able to soar without contaminating the atmosphere with an engine, designers at the Airbus Group's Perlan Project say it'll be able to better weather and environmental conditions.
Also, it's just so sweet. Look at it. So, so sweet.
The Perlan 1 broke a record in 2006 when it reached an altitude of more than 50,000 feet. Its pilots were Steve Fossett and Einar Enevoldson. Fossett, who had achieved a level of fame from his business and aviation exploits — in 2002, he famously flew solo around the globe in a hot-air balloon — disappeared over Nevada in 2007. The Perlan 2's future pilot has not been announced.