Oculus Makes Arcade Classics Pac-Man and Sonic the Point of the Spear
To get fans comfortable with new technology, the presumptive leaders of VR gaming embrace well-known characters.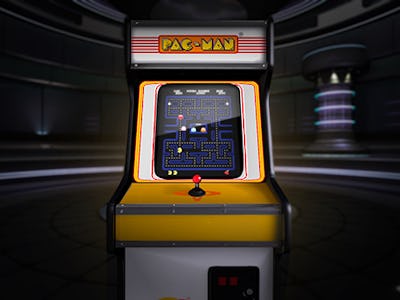 Oculus
Oculus has announced a deal with Sega, Bandai Namco, and (Warner Bros.) that will bring Sonic, Pac-Man, Gauntlet, and other classics into the new Oculus Arcade collection. Plus, it'll only cost you $99 in headset hardware to get you there.
As the VR titan revealed at its developer's conference on Thursday, Oculus Arcade works through a new consumer version of Oculus Gear VR. The Gear VR is a lighter, mobile gaming headset that works with Samsung products like the S6; you'll be able to don your Gear in November.
Gear VR's early games won't just be the 30-year-old gems. It will have new titles. It will have Deer Hunter. Here's a mashup/preview of what the new Gear VR games will look like:
With Minecraft coming to the Oculus Rift and Gear, HoloLens enthusiasts are probably weeping into their glasses.