Disgruntled Harry Potter Fans, Pottermore's New Site Is a Good Thing
J.K. Rowling has revamped 'Pottermore." Some fans are not happy.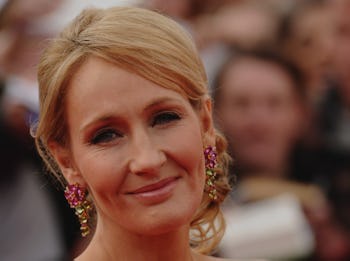 J.K. Rowling — queen of serene smiles, Twitter sass, and post-series exposition — has moved her site Pottermore into the future with a new revamped makeover. Here is the site's mission statement.
"Pottermore is the digital entertainment, news and e-commerce company from J.K. Rowling, inspired by the Harry Potter books and the wider Wizarding World. Launched in 2012, it is also the global publisher of the Harry Potter eBooks and digital audio books. As the digital heart of J.K. Rowling's Wizarding World, pottermore.com is dedicated to unlocking the power of imagination. It offers news, features, and articles as well as new and previously unreleased writing by J.K. Rowling."
The old Pottermore, much like the new, had tidbits like sorting hat quizzes, short stories like this one on Rita Skeeter, and backstory pieces like Draco Malfoy's. However, in order to access them, users previously had to create accounts and solve riddles — which was frustrating for the less Ravenclaw inclined fans. The new site is more transparent and easier to use. But of course, that hasn't stopped some fans from acting like this update is Fred's death all over again.
To all you disgruntled fans, first of all, it's a work in progress.
But most importantly, aren't you forgetting something, here? Rowling's ultimate message in the books was one of progress and open-mindedness! Ron may have started technology-wary, initially calling it a fellytone, but even he got his drivers license in the end.