Shows by Diablo Cody and 'Iron Man 3' Director Headline Amazon's Fall Slate
Louis CK, Sacha Baron Cohen, and more are attached as executive producers on the new group of series pilots.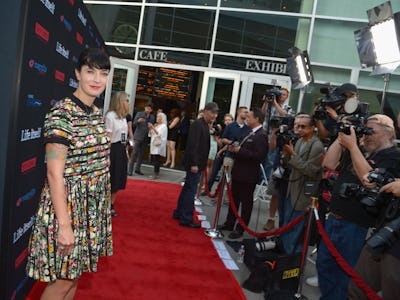 Getty Images
Coming off of five Emmy wins for its original series Transparent, Amazon Studios just announced its biggest slate of original shows yet. Its fall pilots include projects from Shane Black, Diablo Cody, Louis CK, Tig Notaro, Sacha Baron Cohen and Nicole Holofcener. As with its previous pilots, Amazon will choose a handful of these newcomers to become series based on viewer numbers and general buzz.
The grab for established (read: expensive) talent shows how deeply Amazon is committing to compete with original streaming programs. The most promising shows include Edge, a Western based on author George G. Gilman's book series of the same name; Shane Black, who directed Iron Man 3, will write and direct. The show focuses on a former Union officer played by Max Martini who wanders the old West enforcing his personal sense of justice.
If you'd rather laugh, comedian Tig Notaro is behind the autobiographical series One Mississippi about returning to her hometown in the deep South to deal with the death of her mother. This still sounds kind of bleak, but it's executive-produced by Louis CK, Cody, and Holofcener, with Cody writing the script and Holofcener directing the pilot. That means there will definitely be laughs in the middle of all the feels.
Rounding out the new pilots are Patriot, a military drama starring Lost's Terry O'Quinn; Good Girls Revolt, a 1960s-set drama that explores sexism among the employees of a national newspaper; Highston, a comedy executive-produced by Sacha Baron Cohen about a teenager with imaginary friends; and Z, a biographical series about Zelda Fitzgerald and starring Christina Ricci.
Amazon's originals have become the domain of bona fide auteurs. The company has already lined up Spike Lee's Chiraq as its first original movie, while Woody Allen is still hashing out details for his own original show. To back the creative talent, Amazon also nabbed indie film maestro Ted Hope as head of productions and former Variety film critic Scott Foundas as head of film acquisitions and development earlier this year.
The success of Transparent is proof of concept: That by hiring well and giving smart people the room to create, Amazon can become an instant force in original entertainment. If this next crop is an indication, Amazon looks to be fighting this battle by reaching for top quality. Lucky everyone.