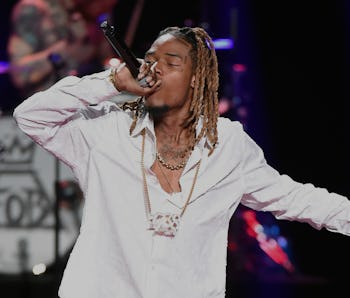 Entertainment
Fetty Wap's New Album: Will It Be Good?
We catch up on the latest songs released by rap's current rookie of the year. 
Ethan Miller, Getty Images 
This week is the release of New Jersey rapper Fetty Wap's Self-Titled debut album. The album already has major buzz with it sitting on three Top 10 singles ("Trap Queen", "My Way" and "679"). That fact alone makes it worthy of attention, because finding any album with that many hits before it's even hit shelves is rather rare.
In the build up to the album, Fetty's released a few more tracks from the 17-track LP. "Jugg," just released yesterday featuring Monty of the Remy Boyz, doesn't immediately capture your ear like his earlier singles. It's a bit gruffer and aggressive, even if Fetty's melodic song-writing shines through. But Monty, who is slotted to appear throughout the album, shows up less as a foil than to just offer a slight switch up from Fetty's own recognizable voice.
The official track listing also revealed that the fan favorite track "RGF Island" will be on the album. The song that's been around on the internet for years — well, months, but years in internet time — is also included to make sure fans aren't going to miss the chance to catch on to some of Fetty's back catalog. The song isn't one of Fetty's best works, but with the amount of listens it had on YouTube before the videos started being taken down, there are clearly fans that resonated far more with the track.
That is the gamble that 300 Entertainment and Fetty Wap appear to be taking with this project right now. There are no big name features — R.I.P. to Drake's remix of "My Way." Most of the producers are the small time producers familiar to Fetty. In a way, it's shaping to be an unfiltered Fetty Wap project with few label fingerprints all over it. The lasting success of the album is to be seen, but this kind of hands-off approach for the release won't leave questions of whether Fetty was done wrong by his label as his artistic freedom is being exercised.