Lana Del Rey's "Honeymoon" Is Her Most Ambitious and Immersive Album to Date
Lana Del Rey back, with a bigger orchestra.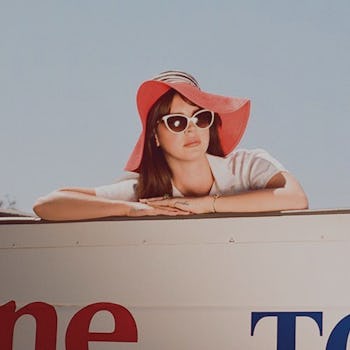 Facebook
It took people a while to figure out Lana del Rey — to realize they had been unknowingly walking around under her thrall while pretending that they hated her. Many despised her debut, Born to Die, without letting it sink in, and stopping to recognize that it didn't sound like any music that had come before it. The thin, dynamicless, reverb-drenched songs were built piecemeal out of pop culture references and cliches, like so many faux-thrifted Urban Outfitters sweaters, dialectically resolving into a brand of femme fatale, trip-hop torch song music that seemed to lack palpable emotion: to tell, rather than show. It took time and, for some, a more stripped-down, organic-sounding record — 2013's Ultraviolence — to make it clear that Lana knew exactly what she was doing, and that this almost comically melancholic music, with its unlikely points of inspiration (the world cringed when she coined that "gangsta Nancy Sinatra" line back in 2011), could tap into the same pleasure centers as any other chintzy pop music.
Her new record, Honeymoon, follows the trend of her previous two releases in establishing its own distinctive mood. It's her most outright jazzy and most musically complex release to date; there are the same indelible choruses, but they take a bit longer to reveal themselves. The production is as souped-up and often maximalist as Born to Die, but is driven by more lush orchestral arrangements, which sound pulled from the most melodramatic standards records of the '50s, or a Connery-era Bond theme. Sometimes, as on the early record, these are layered over trap-like beats, but there is much more space and dynamics in these productions, and these are real drum kits, not 808s. That familiar sense of open air and cruising in a convertible through the desert is created by flashes of echoing surf-rock guitar — the "Wicked Game"-core of Ultraviolence.
But despite being very much on-the-nose in terms of overall Lana stylistic reference points, this record reaches heights and takes chances that none of her previous ones have musically — from the flamenco-tinged wall of sound of "24" to the expansive orchestral art song of the title track. Lana's voice and phrasing are the most diverse and powerful it has ever been; her ability to transition seamlessly between her husky alto range and her lilting head voice is staggering. She's grown into an agile singer as well as a distinctive one, taking cues from singers dating back to the golden age of jazz vocalists, at turns evoking everyone from Sarah Vaughan to Grace Slick to Rihanna. This may be Lana's most languid record, but it's also definitely her most diverse.
In terms of lyrical content, Honeymoon offers the expected pseudo-intellectual trappings: a dramatic, crooned reference to Billie Holiday, a dead-eyed Nina Simone cover ("Don't Let Me Be Misunderstood"), quotations from T.S. Eliot, a dramatic bridge built from the chorus of Bowie's "Space Oddity," a song called "Art Deco," and lines like "screw your anonymity" that you might have — at a low point — reasonably written in whiteout on your high school Trapper Keeper. The scenes are the same: set in California, New York or somewhere with a luxurious view, in bed, or the passenger seat next to a distant but alluring lover.
This is all the stuff that made her unbearable to so many, and still cause many to rule her out. It was grounds to dismiss her (formerly a Cat Power-lite singer-songwriter named Lizzy Grant) as a poser — but what's a poser anyway? What were those standards we were holding her to? Lana is an established part of the pop-cultural landscape by now, and all that one-of-a-kind pulp and camp is mixed right in there with her more conventional talents to help make her one of those artists that we can't help but care about — one whose statements are major events, one who made us catch up with her and, therefore, continues to hold our attention. This winding and lovingly crafted record may be her best to date.