Why the Streamy Awards May Be the Next Big Thing for Next Big Things
The Streamy Awards aren't good, but they are surprisingly relevant.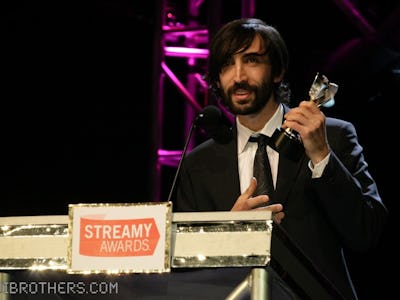 Youtubers, Viners, Snapchatters and the like converged on Thursday night for the 5th Annual Streamy Awards hosted — somewhat ironically — by VH1. The evening, which featured live performances from Future, Hailee Steinfeld and institutional (and otherwise) heavyweight Sir Mix-A-Lot, honored the web's best streaming content and the people who make it.
Those people, unlike the show's myriad merriments, are shockingly compelling.
There's still a good amount of airtime wasted on stale dialogue and meandering acceptance speeches—and way too much time spent on Red Carpet BS — the stuff that renders Oscar broadcasts stiff, formal, and haughty.
But, by and large, the Streamys are a welcome departure from the staid mold of the awards ceremonies of yesterdecade. These are Internet performers, after all and they aren't particularly professional, which is fundamental to their appeal. The irreverence with which, say, Flula Borg, German DJ and celebrity interviewer extraordinaire, reacts to his Best Comedy Series victory:
…or guys like Viner of the Year KingBach…
…whose speech drew a candid reaction from his crew…
…or audience entertainer of the year Cameron Dallas…
…whose Vine stream is largely full of content about trying to chill…
…remind the viewer that the arrivistes producing off-the-cuff, on-a-budget online content have gotten good at slyly undercutting the seriousness of Hollywood and Big Music.
The truth is that, regardless of who is on the "Blue Ribbon" panel — that information is kept secret but we would suggest the truth is just "some dude" — we need things like the Streamys to organize and highlight content we might otherwise miss or fail to encourage in a non-monetary way. The pool of online material is so vast that, until better aggregators exist, ceremonies that mock the Oscars and also themselves will simply have to do.
Despite the occasional yawn or too-cute delivery, the Streamys represent a capable effort at awarding front-line players in the web's democratization, a battle in the wider war to concentrate cultural potential in the hands of ambitious, if anonymous, comedian/ennes. They also represent a way to honor work that does more than get a lot of likes and make money of pre-roll advertising. Granted, those things are still at the core of the Streamys, but the awards show still represents progress.
Cameron Dallas, Jenna Marbles, and KingBach, wealthy as they may be, film their stuff with friends, on their phones.
But by staying true to their vision, and being shrewd enough to use the Internet's evolving content platforms to their advantage, they've planted themselves in our streams and before our eyes. The award itself may not mean what an Oscar or an Emmy once meant, but the recognition, the clicks, the attention that follows and flows from such a ceremony, is worth more than money can buy.