Mystikal's Journey From No Limit Soldier to Bruno Mars Protégé to 'Robert Dinero'
Mystikal's long and strange journey from New Orleans bounce king to neo-soul aficionado to Migos imitatior.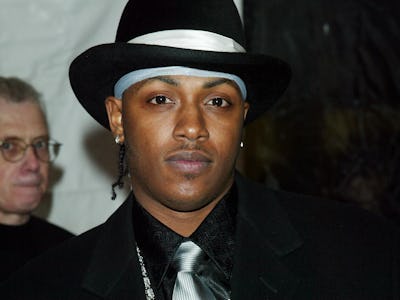 At the turn of the millennium, gruff, fitful voices like Mystikal's, DMX's, and Ja Rule's were unavoidable for anyone who ever turned on MTV or even left the house. They were gruff and cartoonish but, for a little while, hard as hell, perhaps even when wooing Ashanti.
Today, their heyday seems a distant memory: The distinctive voices of '10s hip-hop are lither and more acrobatic — less earthy. Even Rick Ross' basso profundo is like miracle whip compared to classic Mystikal. The New Orleans rapper was always in danger of being too big and unwieldy for his songs, but he nonetheless had them — three major Hot 100 hits — as well as three Top 10 albums. Today, he's a year past featuring on a No. 1 hit, but his prospects as a solo artist, unfortunately, look a bit bleak.
Mystikal's crossover breakthrough may have been a silly, club-friendly tribute to twerking and grinding (2000's "Shake Ya Ass"/"Shake It Fast"), but in the late '90s he was a menacing, unhinged sideman in Master P's No Limit Records crew. Even before he joined with P, Mystikal was a local success in New Orleans, making records in the "bounce" style that was the city's first indigenous hip-hop movement. After pairing with P, his success multiplied, with No Limit at the height of their chart dominance. His second album, Unpredictable, was a staggering success, charting at No. 3 on the Billboard Top 200; the following year Ghetto Fabulous also reached No. 5. This was proof of how well albums could do even without huge crossover singles — No Limit's Southern-and-West-Coast-grown following was huge enough to make Mystikal a star.
But this was just the groundwork for the rapper's career. He rode the musical tide after parting with No Limit in 1999, toward fashioning his own brand of Southern-fried club-rap. At the time, Juvenile and the Cash Money Millionaires had come for No Limit's throne, and Mystikal went the way of the Mannie Fresh video game synths and military-snare club beats with his chosen production. He got a No. 1 album out of the deal with 2000's Let's Get Ready, which spawned two Top Ten singles, the ubiquitous "Shake Ya Ass" and "Danger (Been So Long)." His followup, Tarantula, featured the enduring "Bouncin' Back (Bumpin' Me Against the Wall)," driven by funky, NoLa-funereal horn licks.
After serving a six-year jail stint for sexual battery and assault, Mystikal attempted to recover. After reneging on his contract with Jive, he walked straight into another prison: a dead-end contract with Cash Money Records, now a very different entity than when he went in. The entire music climate was quite different, and Southern hip-hop's dominance on the pop charts was waning steadily.
At the time, Cash Money was signing unlikely acts from Paris Hilton to Limp Bizkit. Mystikal, with his limited commerical prospects, spent three years ostensibly working on a full length, Original, before it became clear it would never see the light of day. A couple of loose 2014 tracks manifested his obsession with James Brown and tight soul arrangements that had begun to crop up on Tarantula. "Hit Me" and "Bullshit" actually showed a great deal of promise.
After wriggling out from under Birdman's iron fist last year, Mystikal seemed to step right into accidental success, becoming a pawn in the mad-scientist nostalgia pop game of Mark Ronson. Their collaboration put Mystikal back on the map and caused him to link up with Bruno Mars. Mystikal intimated last month that he may be the first signee to Mars' new label.
But Mystikal is also preparing to drop an independent "street" album, Strength in Numbers, to assure veteran fans that he's still a rapper's rapper first and foremost. His latest drop suggests that perhaps Mystikal was better as more of a genre-bending chameleon; probably, it's just an unfortunate result of that same tendency to assimilate stylistically. "Robert Dinero" is a piece of garden-variety trap which adapts the songwriting tics of premier Atlanta rap trio Migos; in fact, that pun has been coined by Migos member Offset in a past verse.
Mystikal's slated September 15th release for Strength in Numbers has come and gone, but we should be readying ourselves for more new Mystikal soon. However, hopefully, his bigger-than-life personality will be channeled into some better tracks than this one, and more material of the caliber of "Hit Me" will see the light of day. I want Mystikal back.